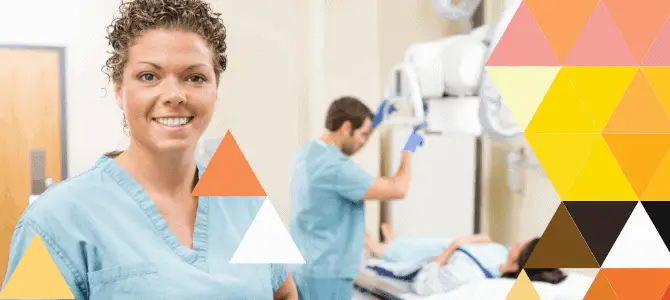 2 years is the short answer.
Radiologic technologists (also known as X-Ray Technicians) will need an associate's degree as a minimum to become certified and increase their employability. Associate's degrees last typically 2 years to take. Radiologic technologists can specialize later in their career in one of the many specializations available such as MRI and Sonography.
Read on to learn about becoming certified….
Radiologic technology is a medical field that continues to grow more each year. The U.S. Bureau of Labor Statistics (BLS) reports that radiology techs can expect an employment growth of nine percent between 2014 and 2024.
Technological Changes Experienced by the X-Ray Technologist
The x-ray tech has experienced many changes in the past fifty or more years. These changes involve not only the educational and training requirements but also the terminology used to describe this medical professional. Prior to the 1960's, a radiographer was referred to as an x-ray technician, x-ray tech or x-ray technologist. Even today the terms technicians and technologists are often used interchangeably, although they are very different professionals.
While the name technician has now been changed to technologist, so have the training requirements, according to the American Registry of Radiologic Technologists® (ARRT). In the past, x-ray technicians may have been hired with little or no training and would receive on-the-job training. Additionally, when aspiring technologists did complete education, it may have been only a certificate or one-year program. Today, a technologist or radiographer must complete an ARRT-accredited training program, and the program must be a two-year program that results in a degree.
Educational Paths and Requirements for Becoming a Certified Radiographer
Effective January 1, 2015, radiologic technologists or radiographers must have at least an associate degree from an accredited school that is ARRT-approved. One of the most common agencies that accredit ARRT schools and programs is the Joint Review Committee on Education in Radiologic Technology (JRCERT). Radiography programs must include general education courses and radiography-related courses. The student must also show competency in various clinical procedures as dictated by the ARRT.
Another major part of the curriculum in a radiography program is a clinical internship, which allows students to obtain hands-on training performing radiography procedures. Students wishing to focus on specific areas of radiography must complete courses in and obtain certification in those specific areas of study.
Students who have obtained their education while in the military may also obtain certification as radiographers if they meet the ARRT requirements. An individual may not necessarily have to have a degree in radiologic science to meet the degree requirement. If the candidate has a degree from a program and school that's approved by the ARRT, he or she may be eligible to complete a radiography training program and obtain certification.
What is a Radiographer?
A radiographer or radiologic technologist is a medical professional who performs x-rays and other similar diagnostic imagining tests on patients to help diagnose and treat patients. The radiographer uses his or her knowledge of diagnostic imaging equipment to perform the specific tests requested by a physician. Prior to the tests, the radiographer sets up, maintains and calibrates the imaging equipment. Once the tests are completed, the radiographer documents the findings and submits the results to the physician and may also assist the physician in interpreting the results of the tests. In addition to performing straight-forward x-rays, the radiographer may perform diagnostic imaging exams on particular areas of the body to help diagnose specific diseases.
Certification Requirements
Although most states do not license their radiographers, they do require radiologic technologists be certified or registered. This can be accomplished by meeting the following requirements:
Complete an ARRT-approved degree program in radiography
Meet the ethics requirements set by the ARRT
Pass the certification exam administered by the ARRT within three years of completion of program
For purposes of licensing, 37 of the states use the ARRT certification exam. The certification exam is a computer-based test that is mostly multiple-choice questions and a few case study questions. Becoming a certified or registered radiographer involves successful completion of three areas: education, ethics, and examination.
Merely having experience or completing a training program is not enough. The final phase is passing the certification exam, and eligibility to take the certification exam is contingent on the candidate meeting both the education and ethics requirements set by the ARRT.
What About Continuing Education?
ARRT certification must be renewed annually. To maintain certification and registration, the technologist must complete continuing education credits. X-ray technologists must show proof of at least 16 hours of structured education every two years to maintain certification and registration. Individuals who are not currently employed as radiographers but in need of recertification may find ARRT-approved schools that offer radiologic science courses that meet the continuing education requirements.
Areas of Specialization
Radiologic technologists can choose to not only be certified as radiographers but may also choose to specialize in certain types of radiography. Candidates may focus on one of the following areas of radiography:
Mammography – a diagnostic image of the breast
Magnetic Resonance Imaging (MRI) – a more detailed exam that uses magnetic fields and radio wave energy to take pictures of organs and smaller areas inside the body
Computed Tomography (CT) – an imaging exam that uses specialized equipment to view bones, organs, blood vessels and soft tissue
Bone Densitometry – an exam that's similar to an x-ray but determines the density of bones
Sonography – an imaging exam that uses high-frequency sound waves to view tissues, organs and blood flow
Vascular Sonography – a type of imaging that views internal organs and monitors blood flow through the veins and arteries
Cardio-Interventional (CI) Radiography – an area of imaging that focuses on the heart and detects potential heart problems
Breast Sonography – an area of imaging that focuses on the breast
To be eligible for certification in any of these areas, the radiographer must have, within the previous three years, completed a training program that focuses on that specific area. The program will include didactic studies and clinical work so that candidate can demonstrate proficiency in these areas. Obtaining multiple certifications can improve a radiographer's employment opportunities and wage potential.
Work Surroundings and Environment of a Radiographer
Although radiographers may work in medical and diagnostic laboratories, physicians' offices or outpatient care centers, the majority work in hospitals, according to the BLS. They spend a lot of time on their feet and may be required to assist in moving, lifting and turning patients to obtain the maximum accuracy in the results. Most radiographers work during business hours; however, many are called in to work during the evenings and weekends to perform diagnostic imaging tests in emergency situations. Radiographers are required to wear protective clothing such as gloves, badges and aprons to minimize their exposure to radiation.