Accredited Radiologic Technologist Schools in Pennsylvania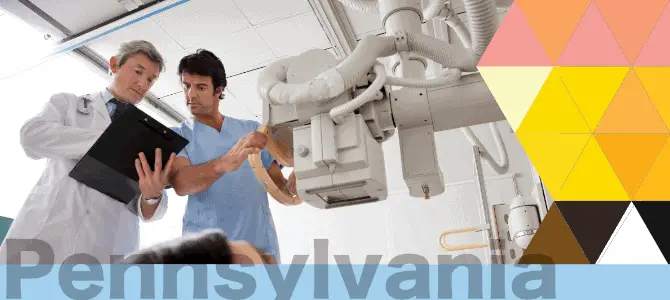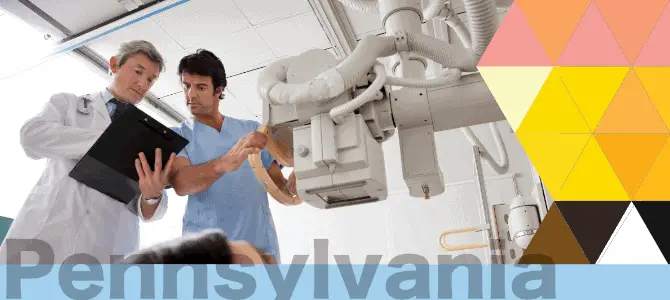 [su_expand height="60″ more_icon="icon: chevron-circle-down" less_icon="icon: chevron-circle-up"]
There are quite a number of radiology-related learning institutions located within Pennsylvania and its environs; all of which are open for enrolment. However, in order to qualify to enroll in these institutions, there are a number of undergraduate courses that you have to pass. They include biology, math, organic chemistry, chemistry, and physics. The reason behind this is that they are all related to radiology in one way or the other. A number of the programs offered are meant for specific careers. Examples of such courses include fluoroscopy and patient care. On the other hand, there are those that are general in nature in that they touch on each and every aspect of radiology such that after the course you are a complete radiology technician. There is no sector you cannot work in. Online radiology learning institutions are also worth checking out. They tend to offer you with a whole lot of flexibility.
Some interesting facts about radiology schools in Pennsylvania
Pennsylvania is ranked as one of the states with the highest number of universities offering radiology course in the United States
On average, radiology technicians are paid more than radiology technicians in other states
There are 21 universities and colleges in the state offering radiology degree programs
There are 16 learning institutions offering radiology associate degree programs
There are 4 learning institutions offering radiology bachelor degree programs in the state and 6 offering certificate programs in the same
The price range for radiology courses in universities and colleges within Pennsylvania lies in-between $2,500 and $35,000
How to become a radiology technician in Pennsylvania
Just like in most US States, the very first step in becoming a radiology technician in Pennsylvania is to graduate from a credited institution. This will involve sitting for the MCAT (Medical College Admission Test) and choosing whichever course fits you the best. Once in school, you will study for 2-4 years depending on the course you are pursuing. Degree courses last for 4 years while certificate programs go for at least 2 years. For those with degree courses, you will be required to go for residency in any studying hospital for up to 1 year. It is only after this that you will be allowed to sit for the ARRT examination which allows you to get licensed. There are specialized ARRT exams for specific careers such as radiation therapy, radiography, sonography and the likes. However, there are no continuing education credit requirements for this process.
See also Radiation Therapy Schools in PA
Career opportunities for radiology technicians in Pennsylvania
Research shows that there are currently about 9,800 radiology work opportunities in Pennsylvania. In addition to this, the projected job growth rate is 16% which means this number will increase in time. Pennsylvania has also been ranked as one of the states with the highest number of major hospitals in the United States. These make the perfect place to look for career opportunities as a new graduate. In addition to this, there are several medical centers, imaging centers and physician offices of which also offer career opportunities for new radiology graduates.
[su_spacer size="0″]
[/su_expand]
Quick Facts
[su_dropcap size="2″]21[/su_dropcap] Radiologic Technology degree programs available in Pennsylvania Universities and Colleges.
[su_spacer size="1″]
[su_dropcap size="2″]6[/su_dropcap] Certificate level program available
[su_spacer size="1″]
[su_dropcap size="2″]16[/su_dropcap] Associate degrees
[su_spacer size="1″]
[su_dropcap size="2″]4[/su_dropcap] Bachelors degrees
[su_spacer size="1″]
Accredited Medical Imaging Programs In Pennsylvania
including X-Ray Tech, Nuclear Medicine, Sonography
[su_list icon="icon: arrow-right" icon_color="#FF7443″]
Northampton County Area Community College – Bethlehem – JRCERT Accredited
Northampton County Area Community College – Bethlehem – CAAHEP Accredited
Montgomery County Community College – Blue Bell – JRCERT Accredited
Bucks County Community College – Bristol – JRCERT Accredited
Harcum College – Bryn Mawr – JRCERT Accredited
Mount Aloysius College – Cresson – CAAHEP Accredited
Misericordia University – Dallas – JRCERT Accredited
Misericordia University – Dallas – CAAHEP Accredited
Gannon University – Erie – JRCERT Accredited
Gwynedd Mercy University – Gwynedd Valley – JRCERT Accredited
Harrisburg Area Community College – Harrisburg – CAAHEP Accredited
Harrisburg Area Community College – Lancaster – JRCERT Accredited
Pennsylvania College of Health Sciences – Lancaster – JRCERT, CAAHEP, JRCNMT Accredited
Community College of Allegheny County-Boyce – Monroeville – JRCERT, CAAHEP Accredited
Robert Morris University – Moon Township – JRCNMT Accredited
Pennsylvania State University-Penn State New Kensington – New Kensington – JRCERT Accredited
Community College of Philadelphia – Philadelphia – JRCERT Accredited
Holy Family University – Philadelphia – JRCERT Accredited
Thomas Jefferson University – Philadelphia – JRCERT, CAAHEP, JRCNMT Accredited
Community College of Allegheny County-Allegheny – Pittsburgh – JRCERT, JRCNMT Accredited
Mansfield University of Pennsylvania – Sayre – JRCERT Accredited
Pennsylvania State University-Penn State Schuylkill – Schuylkill Haven – JRCERT Accredited
Johnson College – Scranton – JRCERT Accredited
Lackawanna College – Scranton – CAAHEP Accredited
Pennsylvania College of Technology – Williamsport – JRCERT Accredited
[/su_list]
Featured Programs
[qs_listing state="PA" areaofinterest="RADIOLOGIC-TECHNOLOGY" campustype="BOTH" maxresults="10″]
Source:
1 – https://nces.ed.gov/collegenavigator/