MRI Technician Schools in New York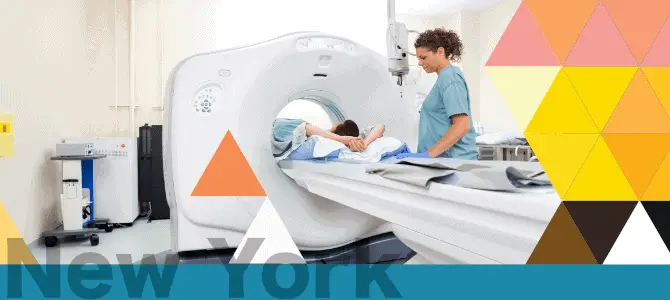 New York is a great place to build up a career as an MRI technician. To work as an MRI anywhere, first, you need at least an associate's degree. There are MRI programs obtainable at an associate's degree level but keep in mind that the program you choose must be accredited by the Joint Review Committee on Education in Radiologic Technology.
After earning an associate's degree, an aspiring MRI must then move onto volunteer or internship work at a hospital or clinic for the required experience. Every state has a certain license and certification one must have in order to qualify as a legitimate MRI. In NY an aspiring MRI must pass either the national exam for radiology issued by the American Registry of Radiologic Technologists (ARRT) or the state exam for NY also issued by ARRT.
Sponsored Programs
Location - Houston, TX, US 77092

The College of Health Care Professions is a Texas-based career education school founded by physicians in the Texas Medical Center solely specializing in healthcare education and dedicated to provid...ing students with training and education Read More

Programs

Radiologic Technology Completion Program - AAS Degree

Radiologic Science Management - Bachelor's Degree

Location - Tallahassee, FL, US 32309

Since 1977, Keiser University has maintained a practical, hands-on approach to career-focused education to help our students achieve their personal and professional goals.  Our student-ce...ntered approach remains at the foundation of the Keiser University mission and continues to attract students who prefer a more personal learning experience. At Keiser University, you will find a warm, friendly community with faculty and staff truly committed to your success.  Our small class sizes, individualized attention, and one-class-at-a-time schedules create a positive learning environment where you can excel.  Whether your goal is to prepare for a new career or to advance with your current employer, Keiser University is designed around your needs. Keiser University Advantage• Associate, Bachelor's, Master's and Doctoral degree programs• Day, Evening, and Online Classes• Financial Aid to Those Who Qualify• Job Placement Assistance Available• Military-friendly, scholarships for qualified active duty personnel, Veterans, and dependants.  Yellow Ribbon program participant, approved for Veterans trainingPrograms and delivery format vary by campus. Courses are subject to change. Keiser University's programs and curriculum remain in-line with technology and workforce trends, helping you develop the skills and qualifications necessary to succeed in today's job market.  Our career-focused programs make it possible for you to graduate in less time than you may think.  Keiser University is a private, not-for-profit university. Read More

Programs

Radiologic Technology, AS

Location - Louisville, KY, US 40205

Earn your degree from an accredited university by taking all of your classes online. Sullivan University Online delivers high quality online degree programs in an e-Learning environment that allows... you to fit education into your life. Read More

Programs

Limited Medical Radiography Diploma
Featured Schools
Located in the Big Apple, City Tech is a public city university of New York (CUNY) and a great place to get an education about radiology. City Tech is one of the biggest technological colleges in Brooklyn and offers several programs that cater to a degree in the MRI field.
City Tech offers six degrees in health care, two are related to MRI-like technology in health. Degrees in vision care technology, radiologic technology & medical imaging.
City Tech offers a two-year associate in applied science (AAS) degree program in vision care technology and a two-year AAS degree program in radiologic technology & medical imaging. In addition to the AAS program in radiologic technology & medical imaging, City Tech offers a four-year bachelor of science (BS) program in that area of study as well. Highlights of the program. According to the City Tech, the radiologic technology & medical imaging AAS and BS programs are accredited by the Joint Review Committee on Education in Radiologic Technology (JRCERT).
Address:
259 Adams Street
Pearl Bldg 513 (P-513)
Brooklyn, NY 11201
Phone:
718-260-5360
Alfred State College is a public State University of New York (SUNY) According to the Alfred State College (ASC) website ASC was this year No. 1 for all SUNY schools in the Northern Regional Colleges by US News & World Report. ASC offers an ASS program in radiologic technology. Not only does this program offer a variety of classes that take place in the classroom and lab but it coordinates with clinical experiences at area hospitals and clinics. According to the ASC, the entire school is accredited by the Middle States Commission on Higher Education.
Address:
10 Upper College Dr.
Alfred, NY 14802
Phone:
607-587-3682
Located in Plattsburg New York, CVPH Medical Center School is a private and nonprofit institution. CPVH stands for Champlain Valley Physicians Hospital, the CVPH Medical Center School uses CPVH as a campus for its radiology program. CVPH has a school of Radiologic Technology that has been around since 1965. All MRI-related programs are designed for associate's degrees. According to the cvph.org website, this program is accredited by the JRCERT.
Address:
75 Beekman Street
Plattsburgh, New York 12901
Phone:
(518) 561-2000
St. John's is a renowned private university located in New York City. St. John's offers a BS program in radiologic sciences. This program consists of clinical practice and other growth opportunities that may help an aspiring MRI's education grow in a nontraditional way. This four-year program splits the first two years into collegiate instruction at the St. John's Queens campus and the last two years of instruction take place at Dr. Andrew J. Bartilucci Center and affiliated clinical sites. However, there are still many parts of this program that are useful and traditional. The graduation rate upon completion for this program was 74.70% from years 2011 to 2015 (stjohns.edu). This program is accredited by the JRCERT.
Address:
8000 Utopia Parkway
Queens, NY 11439
Phone:
718-990-2000