EKG Technician Career Guide: Education Requirements, Duties, Salary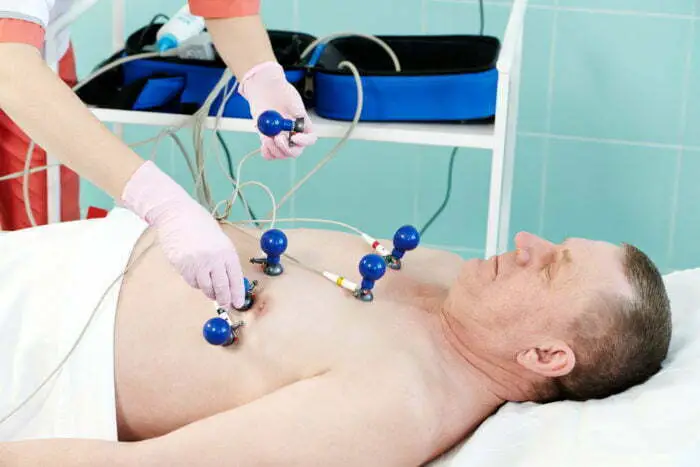 Finding a career that makes you feel like you're making a difference can be difficult. Figuring out what you want to do, how to get the resources to do it, and how to get paid doing it are hurdles everybody must overcome to succeed. If you want a rewarding career in healthcare but don't want to become a nurse, you could consider becoming an EKG technician.
Becoming an EKG technician does not require you to complete a four-year program – training is typically complete in nine months and sometimes less.
According to the U.S. Census Bureau, 23% of the U.S. population will be older than 65 in 2060, up from 16% in 2018. The demand for EKG technicians is currently high, and these healthcare professionals will play a key role in the healthcare industry in the coming decades.
If you're curious about how to become an EKG technician, this guide will provide a peek into an EKG tech's day-to-day, along with the salary range, job outlook, a step-by-step guide to becoming an EKG technician, and potential growth opportunities. 
What is an EKG Technician?
EKG technicians are allied health professionals that play a key role in cardiovascular healthcare teams. 
EKG techs use specialized equipment to gauge the heart's electrical activity. While EKG techs can interpret the activity, it is used by the physicians on the team to understand the patient's condition and provide the right treatment and patient care.
These professionals can have other titles depending on their training and the equipment they operate. EKG technicians are also referred to as:
ECG Technicians
EKG Technologists 
Cardiac Monitor Technicians
Telemetry Monitor Technicians
Cardiovascular Technicians
Cardiographic Technicians
Rhythm Analysis Technicians
What Does an EKG Tech Do?
Electrocardiography involves attaching electrodes connected to an EKG machine to the patient's body. An EKG technician typically runs through the process with the patient when attaching the electrodes to the patient's arms, chest, and legs.
Typically, EKG tests are done when the patient is walking on a treadmill. However, if the test is being carried out with the patient at rest, the technician is responsible for ensuring the patients are positioned correctly for the test before collecting a result from the machine.
After ensuring that the reading is clear, the technician reports the information to the physician that ordered the test. If the technician identifies any irregularity in the reports, they discuss their concerns with the physician. The report helps the physician understand whether the patient's heart or a care plan needs to be set in place.
An EKG technician has workdays packed with more responsibilities than just diagnostic preparation, taking EKG tests, and reporting.
Depending on the location and the healthcare facility's requirements, the job description an EKG technician may also include:
Obtaining and recording the patient's medical history
Recognizing abnormal images and results 
Educating patients about procedures 
Analyzing test reports and other patient information and providing a summary of the findings to physicians
Keeping track of patient's records
Aiding physicians when they're performing procedures
Performing stress tests to determine patient well being
Preparing patients for Holter monitoring in ambulances
Maintaining EKG equipment and ensuring it's ready for testing 
Scheduling appointments for EKG tests
While EKG techs learn everything they need to know to fulfill their responsibilities at healthcare facilities, the role requires them to have soft skills beyond their education and certification for delivering improved patient care.
Traits of A Successful EKG Technician 
Successful EKG technicians have the following traits:
Attention to detail: Accurate diagnosis requires the EKG technician to follow instructions precisely and in the right order. It is the only way to obtain the required images that will be used for diagnosis and subsequent treatment. Therefore, paying great attention to detail is a must for EKG technicians. For instance, a technician must closely observe the computer screen as they scan the patient's body. This is so the EKG tech can identify the subtle cues that differentiate a healthy image from an unhealthy one.
Hand-eye coordination: Getting high-quality images requires the technician to configure the machine and correctly attach the equipment to the patient. The patient may also need to be repositioned appropriately depending on what the EKG technician sees on the screen.
People skills: An EKG technician works closely with patients, and some patients may be in pain because they're injured, sick, or disabled. This can make testing more challenging for the technician. The technician must have excellent people skills to gain the trust of the patient, so they cooperate. Excellent people skills are a must for EKG technicians since they must communicate clearly with patients and other healthcare professionals.
Stamina: An EKG technician is on their feet all day and often moves to set up and adjust equipment throughout their shift. Depending on the patient's condition, the EKG technician may need to lift and move patients. Physically fit techs are able to deliver better patient care and aid patients to the best of their ability.
Technical skills: Understanding how complex computerized machines work is a big part of being an EKG technician. Diagnostics equipment, like any other technology, improves and changes with time. Working with different kinds of equipment and technology will require you to have solid troubleshooting skills.
Working on yourself and learning these skills is key to success as an EKG technician.
Where Do EKG Techs Work?
EKG technicians work in a variety of settings in the healthcare industry. You will find them at:
Outpatient healthcare facilities
Specialized hospitals
Doctor's offices
General hospitals
Diagnostic laboratories
Nursing and long-term care homes
EKG Technicians Salary
The most recent reports by the Bureau of Labor Statistics indicate that EKG technicians earn an average salary of $59,100. Of course, as your experience increases, your average salary will also increase. The top 10% of EKG technicians get paid $96,790 annually. 
If you're open to moving to another state to attract a higher average salary, you can consider moving to Rhode Island, where EKG techs have an annual mean wage of $85,590. Oregon, California, New York, and the District of Columbia are other great states to move to if you want to earn a higher-than-average salary.
If you work full-time, you will receive benefits such as health insurance, paid vacation, sick leaves, and tuition reimbursement in addition to your salary. 
Job Outlook
The BLS expects the demand for EKG technicians to increase by 14% by 2030. In addition, the demand for EKG techs can be expected to surge higher in the coming decades as the population ages.
How Do I Become an EKG Technician?
Becoming an EKG technician requires less education compared to other medical professions. However, becoming an EKG technician can be an excellent first step towards establishing a career in the healthcare industry.
That said, you could also consider becoming a medical assistant before beginning your EKG technician training. Medical assistants make a respectable salary doing basic coding and billing, documentation, and tracking medical records. 
Having experience as a medical assistant before becoming an EKG tech will increase your breadth of knowledge and make you a more valuable candidate in any pool of applicants.
You can become an EKG technician in four steps:
Step #1: Get a High School Diploma or GED
A high school diploma or an equivalent GED is a minimum requirement. You must obtain either of these before you can begin EKG technician training. 
If you're still in high school, you can consider taking anatomy and physiology classes to learn more about the human body. Taking these classes will make it easier to understand the terminology you need to understand when you begin training.
While enrolling in an EKG technician program does not require you to have an associate's or bachelor's degree, some students complete their degree before enrolling in training for the role.
You could consider enrolling in associate's or bachelor's degree programs in cardiovascular and vascular technology. If you decide to get a diploma, certificate, associate's, or bachelor's degree in cardiovascular technology, ensure that the program you enroll in is accredited by the CAAHEP. 
Step #2: Enroll In an EKG Technician Program
Enrolling in an EKG Technician program is one of the best ways to kickstart your career as an EKG tech. There are a number of these programs that can set you up for a bright career in the industry. 
While completing a program is not a requirement, some employers prefer hiring students that have completed a program. EKG tech programs take between three and nine months to complete, depending on what program you enroll in. But some students prefer skipping this step and learning what they need to learn from senior EKG technicians in their job training. 
The training takes between four and six weeks; and teaches you everything you learn in an EKG tech program. Having some healthcare experience will make you stand out to employers, and you could get hired a lot easier than other students. 
However, your mileage may vary with skipping education. These programs will teach you everything you need to know to thrive in any work environment. Some of the things you learn include:
Anatomy
Bedside ammer
Correct lead ECG placement
Medical Terminology
After you complete the program, you will feel a lot more comfortable working with EKG equipment. You will also feel a lot more comfortable working with patients from all walks of life.
Step #3: Gain Experience and Get Certified
Getting certified will get you more job opportunities with higher pay. Several employers, especially hospitals working towards or looking to maintain magnet status, prefer hiring a certified EKG tech over other candidates.
Completing an EKG certification program will take you between three and six months. You can consider getting two certifications: Certified EKG Technician (CET) and Certified Cardiographic Technician (CCT).
Certified EKG Technician (CET)
If you have a year of experience working as an EKG tech, you are eligible to get your EKG technician certification. The National Healthcareer Association offers the EKG technician certification, and the organization requires you to pass a two-hour exam at your preferred location before awarding you the certificate.
To take the exam and get certified, you must:
Apply for the exam online.
Choose a date and a location to take the test.
Study for the test using the resources of your choosing.
Take the two-hour test at a testing center. You can also choose to take a live proctored exam.
Receive your results in two days.
Certified Cardiographic Technician (CCT)
To become a Certified Cardiographic Technician (CCT), applicants must meet the following criteria:
Have a high-school diploma or GED
Prove that they belong to one of the following categories:
Enrolled as a student in a cardiovascular or EKG training program
Employed as an EKG technician or in a recognized allied health field
Have an undergraduate or graduate degree in science or physical health
In other words, you don't require having a year of experience to become a CCT. Getting this certification helps employers validate your knowledge of Holter monitoring and stress testing.
Step #4: Complete Continuing Education Requirements
If you're not certified, you will not need to complete any continuing education requirements. However, CETs are legally required to maintain their certification if they intend to continue practicing.
If you become a Certified EKG technician, you will need to renew your credentials every two years. To renew your credentials, you must earn ten continuing education credits and pay a recertification fee.
On the other hand, if you become a Certified Cardiographic Technician, you must renew your certification 9-12 months after getting it. The first renewal does not require you to earn any continuing education credits. 
After the first renewal, you must renew the certificate every three years. On every three-year renewal, you must earn 16 C.E. credits in addition to submitting a signature of compliance with the CCI Code of Ethics.
Sponsored Programs
Location - Houston, TX, US 77092

The College of Health Care Professions is a Texas-based career education school founded by physicians in the Texas Medical Center solely specializing in healthcare education and dedicated to provid...ing students with training and education Read More

Programs

Radiologic Science Management - Bachelor's Degree

Radiologic Technology Completion Program - AAS Degree

Location - Melbourne, FL, US 32901

Since 1977, Keiser University has maintained a practical, hands-on approach to career-focused education to help our students achieve their personal and professional goals.  Our student-ce...ntered approach remains at the foundation of the Keiser University mission and continues to attract students who prefer a more personal learning experience. At Keiser University, you will find a warm, friendly community with faculty and staff truly committed to your success.  Our small class sizes, individualized attention, and one-class-at-a-time schedules create a positive learning environment where you can excel.  Whether your goal is to prepare for a new career or to advance with your current employer, Keiser University is designed around your needs. Keiser University Advantage• Associate, Bachelor's, Master's and Doctoral degree programs• Day, Evening, and Online Classes• Financial Aid to Those Who Qualify• Job Placement Assistance Available• Military-friendly, scholarships for qualified active duty personnel, Veterans, and dependants.  Yellow Ribbon program participant, approved for Veterans trainingPrograms and delivery format vary by campus. Courses are subject to change. Keiser University's programs and curriculum remain in-line with technology and workforce trends, helping you develop the skills and qualifications necessary to succeed in today's job market.  Our career-focused programs make it possible for you to graduate in less time than you may think.  Keiser University is a private, not-for-profit university. Read More

Programs

Radiologic Technology, AS
Frequently Asked Questions
What are the growth opportunities for EKG technicians?
Adding a CET or CCT certification to your title will help you advance your career; however, that's not the end. You can consider adding more certifications to your resume to get better positions with higher salaries and expanded responsibilities. 
Regardless of whether you become a CET or a CCT, you can move into roles like Medical Laboratory Technologist, Nuclear Medicine Technologist, or Radiation Therapist by earning the right credentials.
How long does it take to begin practicing as an EKG/ECG technician?
If you choose to skip enrolling in a program and learn from on-the-job training, your training period will be over in six weeks, and you can begin looking for jobs. 
On the other hand, if you enroll in an EKG technician program, it can take you between three and nine months to complete it. There is also the possibility of you getting an associate's or bachelor's degree, which takes two and four years to complete, respectively.
Enrolling in a longer program like a bachelor's degree can qualify you for better jobs with more responsibility and higher pay right when you start your career. 
But it's important to bear in mind that associate's and bachelor's degrees cost more to complete than EKG technician training programs.
Conclusion: Should You Become an EKG Technician?
EKG technicians have high-satisfaction jobs: it's not as stressful as being a nurse or a doctor, and the pay and job outlook are great. EKG techs can become certified in a matter of two years and earn thousands of dollars a year plus benefits in a career as an EKG tech.
The hours are decent, and most facilities don't require EKG technicians to work more than forty hours per week. The job can be easy for some and challenging for others, but one thing's for sure: you won't have trouble getting hired or earning a good living.
The only downfall with the role is that advancing your career can be challenging without getting more certifications. However, if you work hard and take the right steps, you will enjoy an easy-going, lucrative career in the healthcare field.