Radiology Tech Programs in New York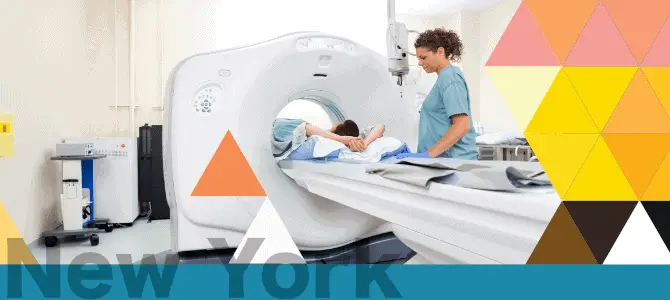 The following are just a few cities within the state of New York where graduated students are able to work after they receive their diplomas in the field. For more on radiology tech programs in New York, keep reading below.

Buffalo, New York
Buffalo has many listings available for radiology technicians who are able to work with complex imaging equipment used to treat patients with several unique diseases in specific parts of the body that would otherwise be hard to locate and diagnose.

Albany, New York
There is currently a large demand for a number of radiology technicians to work within the Albany branch. They require technicians that can help assist the physicians currently overlooking the patients.

Long Island, New York
Radiology technologists are needed in all the New York City regions. Many hospitals require this type of profession on a regular basis.

Rochester, New York
Radiology technicians are even required over in Rochester, specifically for various MRI treatments. They can serve to help take image samples of the patients from within the MRI rooms.
How to Become a Radiology Technician in New York
#1 – Complete your high school diploma or a GED
Almost all colleges or higher-education courses require you to complete high school and pass the GED. But paying attention to the sciences or mathematics will help you do better in your radiology training. If possible, high school students should intern in a healthcare setting to have a stellar college application.
#2 – Earn a postsecondary certificate or degree
Those who plan to seek certification must complete technician training accredited by the Joint Review Committee on Education in Radiologic Technology (JRCERT) or the American Registry of Radiologic Technologists (ARRT). Radiology technician programs are available at the certificate, associate degree, and bachelor's degree levels.
A certificate program is usually 1-year
An associate's degree requires 2 years and
A bachelor's degree takes 4 years
Of all of them, students prefer completing an associate's degree. If you're looking to have a career in supervisory or teaching positions, a bachelor's or master's degree is recommended.
The coursework at all levels consists of classroom and laboratory instruction covering anatomy, medical terminology, patient positioning, radiation protection, infection control, and radiation pathology.
#3- Get Certified
There are no national licensing required radiologic technologists but many states have their own licensing process. Getting certified with the ARRT will inevitably provide professionals with better career prospects and also establishes in the field.
This process entails submitting your academic record, filling out an ethics pre-application, and passing an exam that evaluates the knowledge and skills required for an entry-level radiology technician.
If a student wants to pursue further studies in radiology, they can seek certification in Mammography, Bone Densitometry, or Cardiac-Interventional Radiography with the AART.
#4 – Get Licensed
The State of New York offers the below certificate licenses in radiology:
Diagnostic Radiologic Technology
Therapeutic Radiologic Technology
Mammographic Radiologic Technology
Fluoroscopy Permit
The state of New York requires students to renew their licenses every two years. Each student needs to complete 24 education hours in two years. In New York, it is mandatory to complete four of these hours in digital radiography and students can choose from other areas of radiology, such as mammography and bone densitometry.
Some Interesting Facts about Radiology Schools in New York
Up to 6% of the country's Radiology professionals work in the state of New York
The Radiology field has increased by 33% in New York
New York Radiology salaries continue to rise
Radiology professionals make, on average, more than most other related professions
36% of graduates in New York technician schools received an associate's degree in Radiology
Sponsored Programs
Location - Houston, TX, US 77092

The College of Health Care Professions is a Texas-based career education school founded by physicians in the Texas Medical Center solely specializing in healthcare education and dedicated to provid...ing students with training and education Read More

Programs

Radiologic Science Management - Bachelor's Degree

Radiologic Technology Completion Program - AAS Degree
View also: