Radiology Tech Programs in Texas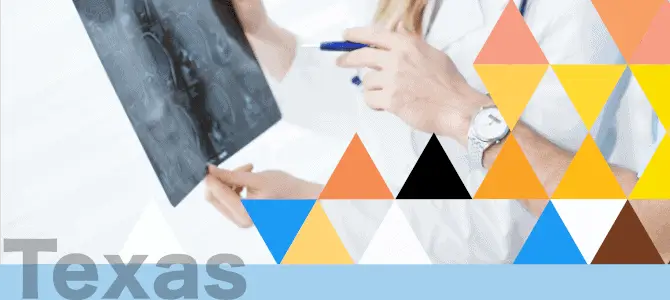 A Radiologic Technician plays an important role in helping doctors diagnose health issues. They provide accurate diagnostic images in a way that causes no harm to the patients keeping in mind the highest standards of their profession. As with any diagnostic medical profession, they must be aware of anatomy, physiology, and pathology. To learn more about radiology tech programs in Texas, read on.
The path to becoming a Radiologic Technologist includes studying basic anatomy in high school, a bachelor's or associate's degree followed by state-wise or national licensing. There's no recommended study path and you can choose your own based on your circumstances. In this article, we'll help you with the details of becoming a radiologic technician in Texas.
Texas is a good place to build a career as a Radiology technician as the projected job growth rate is quite high. Whether you choose an associate's degree or a bachelor's, both must be accredited by the Joint Review Committee on Education in Radiologic Technology. This gives the degree legitimacy and gives you a better chance of gaining employment.
How to Become a Radiologic Technologist in Texas
Step 1 – Complete your high school diploma or a GED
Before a student begins a career in any medical field, it is mandatory to complete a high-school diploma or GED. Additionally, some colleges with radiography programs require that you take anatomy, biology, and chemistry courses.
Step 2 – Earn a postsecondary certificate or degree
A student may earn a 2-year associate's degree or a 4-year bachelor's degree. Here is the difference between them:
An associate's degree in radiologic technology is the minimum requirement to work as a radiology technician in Texas. You can pursue this online, on-campus, or a combination of both. But to be employable, a student will need to meet state or licensing requirements.
Another path would include pursuing a Bachelor of Radiologic Technology/ Bachelor of Science in Radiologic Sciences/Bachelor of Applied Science. While none of the degrees are given preference over the other, a bachelor's degree helps further one's education or gain leadership roles. It takes 4 years on average to earn a bachelor's degree.
The curriculum and requirements can differ from university to university but the essence of education is often the same. The modules that are commonly included in all degree programs are:
Radiation Biology and Protection
Patient Care
Principles of Radiographic Imaging
Radiographic Pathology
Advanced Radiographic Procedures
Step 3 – Get licensed to work in radiology in Texas
The majority of states in the USA require professionals to get licensed which must be renewed regularly. The State of Texas does not have an examination requirement but it does conduct thorough verification through an intensive application process. Currently, the application fee is $80.00 which includes a $5 Office of Patient Protection fee.
Texas has a two-step application process – pre-licensure and licensure.
In the first stage, the applicant is required to apply with documents and required certificates. Once the documents are received, the application will be forwarded for processing.
In the next stage, a licensure analyst will review and verify all the information contained in the application and the supporting documentation. Answers must be given truthfully and any falsification will result in a delay in the processing time of your application and punitive action. Once submitted, the applicants will be given log-in details into the LAMAS system and asked for more documents via email.
In addition to this, all Radiologic Technician applicants will need to pass the Medical Jurisprudence exam.
Sponsored Programs
Location - Houston, TX, US 77074

The College of Health Care Professions is a Texas-based career education school founded by physicians in the Texas Medical Center solely specializing in healthcare education and dedicated to provid...ing students with training and education Read More

Programs

Limited Medical Radiologic Technologist with MA Skills - Certificate

Location - Sarasota, FL, US 34240

Since 1977, Keiser University has maintained a practical, hands-on approach to career-focused education to help our students achieve their personal and professional goals.  Our student-ce...ntered approach remains at the foundation of the Keiser University mission and continues to attract students who prefer a more personal learning experience. At Keiser University, you will find a warm, friendly community with faculty and staff truly committed to your success.  Our small class sizes, individualized attention, and one-class-at-a-time schedules create a positive learning environment where you can excel.  Whether your goal is to prepare for a new career or to advance with your current employer, Keiser University is designed around your needs. Keiser University Advantage• Associate, Bachelor's, Master's and Doctoral degree programs• Day, Evening, and Online Classes• Financial Aid to Those Who Qualify• Job Placement Assistance Available• Military-friendly, scholarships for qualified active duty personnel, Veterans, and dependants.  Yellow Ribbon program participant, approved for Veterans trainingPrograms and delivery format vary by campus. Courses are subject to change. Keiser University's programs and curriculum remain in-line with technology and workforce trends, helping you develop the skills and qualifications necessary to succeed in today's job market.  Our career-focused programs make it possible for you to graduate in less time than you may think.  Keiser University is a private, not-for-profit university. Read More

Programs

Radiologic Technology, AS
Featured Programs
Amarillo College
P.O. Box 447
Amarillo, TX 79178
Associate of Applied Science
A public community college in Texas, Amarillo college was founded in 1929 and currently hosts over 10,000 students. The radiography program aims to prepare students to learn the basic skills of radiography and be eligible to write the national certification examination administered by the American Registry of Radiologic Technologists.
At the end of the 2-year radiography program, students will graduate with an Associate Degree in Applied Science (AAS) and a Certificate of Completion.
The course requires students to have taken modules in Behavioral Science, Life & Physical Sciences or Mathematics, or communication. The curriculum is vast and covers areas like radiographic image evaluation, radiographic pathology, radiology protection, and more. The theory is accompanied by clinical education and every student is required to complete 5 practicum courses over twenty-one months. Your laboratory will be two days a week on campus during each procedure's course.
Baptist Health System School of Health Professions
8400 Datapoint Drive
San Antonio, TX 78229
www.bshp.edu/future-students/programs/associates/radiologic-technologist
Associate of Applied Science
Located in San Antonio, the Baptist Health System School of Health Professions is an accredited health science school and is sponsored by the Baptist Health System.
The Baptist Health System offers an Associate of Applied Science in Radiologic Technology. On completion of the course, graduates can write the certification exam conducted by the American Registry of Radiologic Technologists (ARRT).
In a 5-semester program, students can choose from an entirely online course with occasional lab visits or a partially online program. In both options, students will have to attend a clinical practicum in a clinic, hospital, or imaging center. To be eligible to apply, the student must have completed an education in an accredited college or university with courses in Anatomy & Physiology I, College Algebra, and Medical Terminology.
The course aims to produce qualified radiologic technologists who will be able to work in any include hospital or imaging centers. The students will be trained to perform even in situations with trauma, blood, and other bodily fluids. With a completion rate of 80% and a job placement rate of 100%, the Baptist Health System School certainly commits to quality education.
Lyndon B. Johnson General Hospital/Harris Health System
Radiography
9250 Kirby Drive, Suite 1800
Houston, TX 77054
www.harrishealth.org/about-us-hh/Pages/radiography-program.aspx
The vision of Harris Health System is to care for the health of all residents of Harris County, Texas through its community health centers, hospitals, clinics, and five school-based clinics.
The full-time Radiology program takes two years and begins in July of each year. The class is limited to 26 students with lectures at 9250 Kirby, Suite 1800, and clinical experience in Harris Health. Ben Taub Hospital and the Lyndon B. Johnson Hospital.
To be eligible to apply, students must have completed an associate's degree with modules of mathematics/logical reasoning, written/oral communication, human anatomy, and physiology, and any one of the following- arts and humanities, social/behavioral science, and information systems.
At the end of the program, students should be prepared for state licensing, be fully qualified for an entry-level position, and exhibit a professional attitude.
Importance of Joint Review Committee on Education in Radiologic Technology
The JRCERT or the Joint Review Committee on Education in Radiologic Technology is the only agency in the USA when it comes to the accreditation of radiography, radiation therapy, and other magnetic resonance programs. It aims to prepare a radiography graduate to handle the daily challenges and responsibilities required of a competent and professional entry-level radiographer. Thus JRCERT works with accredited universities to meet the following goals:
Improve The Effectiveness Of The Program: Students will be competent to take the ARRT certification and be employable by the end of his/her education. The employment rate should also remain high with a high degree of graduate satisfaction.
Produce Clinically Competent Graduates: Students will take great precautions in their line of duty to prevent radiation damage to themselves and their patients and produce effective diagnostic images.
Graduate students with good communication skills: Students will be able to communicate effectively with patients and doctors throughout the process.
Produce Radiology professionals who display good reasoning and problem-solving skills: Students will be able to assess radiographic images and remain professional in critical scenarios.
Produce graduates who demonstrate professional development: Students will conduct themselves by the ARRT "Code of Ethics".
Other Accredited Medical Imaging Programs In Texas
including X-Ray Tech, Nuclear Medicine, Sonography
Alvin Community College – Alvin – CAAHEP Accredited
Amarillo College – Amarillo – JRCERT, JRCNMT Accredited
Austin Community College – Austin – CAAHEP Accredited
Lamar Institute of Technology – Beaumont – JRCERT, CAAHEP Accredited
Coastal Bend College – Beeville – JRCERT Accredited
University of Texas-Rio Grande Valley – Brownsville – CAAHEP Accredited
Blinn College – Bryan – JRCERT Accredited
Lone Star College-Montgomery – Conroe – JRCERT Accredited
Del Mar College – Corpus Christi – JRCERT, CAAHEP Accredited
Lone Star College-CyFair – Cypress – JRCERT, CAAHEP Accredited
Brookhaven College – Dallas – JRCERT Accredited
El Centro College – Dallas – JRCERT, CAAHEP Accredited
The University of Texas Southwestern Medical Center – Dallas – JRCERT Accredited
El Paso Community College – El Paso – JRCERT, CAAHEP Accredited
Tarrant County College – Fort Worth – JRCERT Accredited
Galveston College – Galveston – JRCERT, JRCNMT Accredited
Houston Community College – Houston – JRCERT, CAAHEP, JRCNMT Accredited
The University of Texas MD Anderson Cancer Center – Houston – JRCERT Accredited
Laredo Community College – Laredo – JRCERT Accredited
Angelina College – Lufkin – JRCERT, CAAHEP Accredited
Midland College – Midland – CAAHEP Accredited
Odessa College – Odessa – JRCERT Accredited
Paris Junior College – Paris – JRCERT Accredited
San Jacinto College – Pasadena – JRCERT, CAAHEP Accredited
Howard College – San Angelo – JRCERT Accredited
St. Philip's College – San Antonio – JRCERT Accredited
University of Texas Health Science Center at San Antonio – San Antonio – JRCERT Accredited
University of the Incarnate Word – San Antonio – JRCNMT Accredited
Texas State University-San Marcos – San Marcos – JRCERT Accredited
Temple College – Temple – CAAHEP Accredited
Tyler Junior College – Tyler – JRCERT Accredited
Tyler Junior College – Tyler – CAAHEP Accredited
McLennan Community College – Waco – JRCERT Accredited
Weatherford College – Weatherford – JRCERT, CAAHEP Accredited
Wharton County Junior College – Wharton – JRCERT Accredited
Midwestern State University – Wichita Falls – JRCERT Accredited