Radiologic Technologist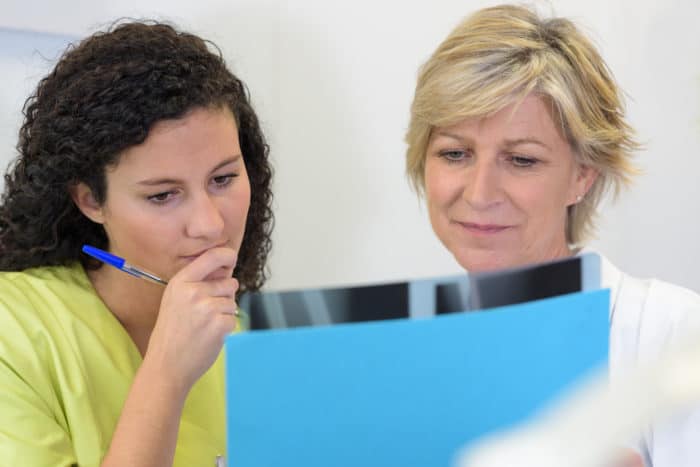 Radiologic technologists are one of the largest groups of healthcare professionals in the world. In fact, they are the third-largest group of all health care professionals, the largest being nurses and the second-largest being doctors.
In today's job market, radiology techs are in high demand. According to the US Bureau of Labor Statistics, the employment of radiologic and MRI technologists is projected to grow seven percent from 2019 to 2029, faster than the average for all occupations.
If you are thinking about becoming a radiologic technologist, it's important that you familiarize yourself with the various roles that are available and how to become certified in diagnostic imaging. Radiologic technologists are sometimes referred to as radiologic technicians or x-ray technicians. Currently, there are over 200,000 radiologic technologists in the United States.
What is a Radiologic Technologist?
Radiologic technologists are medical professionals who are trained to capture images of the human anatomy using specialized medical equipment. They perform medical imaging to help doctors diagnose and treat pathology in the bodies of those with medical conditions.
Also known more generally as radiographers, radiologic technologists are sometimes improperly referred to as x-ray technicians. While taking x-rays can be one of their jobs, x-ray tech is considered an outdated term. Historically radiologic technologists in the field of medical imaging have also been informally referred to as "techs" and "rad techs".
What's the Difference Between a Radiology Technician, Radiologic Technologist, and Radiologist Assistant?
The primary differentiator between a radiology technician, radiologic technologist, and radiologist assistant is the amount of education and training required for each role. Additionally, the ability to assume more responsibility and earn greater compensation is also a differentiator.
Radiology Technician
A radiology technician typically holds a two-year degree from a trade school or community college. However, in some states, the completion of a certificate program is all that's required.
Radiology technicians may focus on taking x rays, but they are typically certified to operate other medical imaging equipment. Study time for a radiology technician is primarily focused on learning how to operate x-ray, mammography, and computed tomography (CT) equipment and position patients properly during the operation of these machines.
The title radiology technician has been phased out in recent years with the role being consolidated under the broader title of a radiologic technologist.
As of 2015, the American Registry of Radiologic Technologists (ARRT), requires that all ARRT certified credentials have an associate's for the following credentials:
 Radiography
 Vascular Sonography
What's an MRI vs x-ray?
Radiologic Technologist
Also called radiographers, radiologic technologists have job duties similar to those of a radiology technician. Both roles are trained to position patients and properly operate imaging equipment. However, as of 2015, the ARRT requires all radiologic technologists to have an associate's at a minimum.
Many radiologic technologists hold a four-year bachelor's degree from a radiologic program and are able to act in supervisor roles and earn a higher salary as opposed to a radiology technician who may have only completed a two-year associate's degree.
Radiologic Assistant
Radiologist assistants are radiologic technologists who have attained a master's from a nationally recognized curriculum and completed a clinical preceptorship under a radiologist.
RAs manage patients, perform assessments, and provide preliminary evaluations of test results to the supervising radiologist.
What Do Radiologic Technologists Do?
Radiologic technologists are responsible for:
explaining procedures to patients about the imaging process
physically positioning patients for imaging procedures
adjusting the machinery and capturing images properly
ensuring the accuracy and quality of the images captured
Depending on what part of the body is being imaged, a radiographer may use different medical imaging tools. X-ray, MRI (magnetic resonance imaging), CT (computed tomography), fluoroscopy, or sonography equipment may be used to capture the images needed to help a physician make a diagnosis or plan for a procedure. 
Radiologic technologists also administer doses of radiation to treat forms of cancer and other diseases. This is known as radiation therapy.
They also assist physicians with procedures. These procedures, such as stent insertions and angioplasty, are used to treat blood vessels and heart disease without requiring invasive surgery.
Radiology Tech Salary
According to Salary.com, as of May 27, 2021, on average radiology tech earns about $57,352 annually in the United States. The range typically falls between $51,110 and $64,569 depending on experience and other factors.
Glassdoor puts the average at approximately $53,871 while Zip Recruiter's data points closer to $61.119 per year or about $29/hour.
Radiologic technologists with a bachelors typically earn more than those with an associate's or no degree. In fact, the average salary for a radiologic technologist with an associate's degree is $53,222, while those with a bachelor's degree earned $56,540 and $71,501 with a master's degree, according to the American Society of Radiologic Technologists (ASRT).
Different modalities in which radiologic technologist specializes also make a difference in wages earned. For example, according to the ASRT, radiologic technologists working in bone densitometry earn an average annual salary of $62,042, compared to radiologic technologists working in vascular sonography at $69,794, breast sonography at $73,967), or PET/CT, SPEC/CT at $78,018. 
Where Do Radiologic Technologists Work?
Radiologic technologists typically work in a hospital setting, although some may work at an imaging center or at a physician's office. They must be able to stand on their feet for extended periods of time and may be required to render physical assistance to disabled persons.
Most RTs work full-time to provide patient care. They may be required to be on-call or work overtime as necessary.
Radiologic technologists are exposed to radioactive materials or equipment as an inherent part of their job of providing patient care. However, they are trained on the precautions to observe while working around radioactive materials during imaging procedures. They are also taught about the use of radiation protection to reduce the chance of inadvertent exposure to radiation.
Radiologic technologists often wear protective shielding devices, such as a special lead-lined vest, gloves, and/or apron. Radiologic technologists are tested on a regular basis to monitor radioactive exposure to ensure that they have not been overexposed to radioactive materials.
How Long Does it Take to Become a Radiologic Technologist?
It takes about 2 years to become a radiologic technologist.
This includes:
obtaining your associate's
completing an ARRT-approved educational curriculum
meeting the ARRT ethics requirements
passing the ARRT exam
Known as the Primary Eligibility Pathway, this allows you to earn your ARRT credentials in
Sonography
Radiography
Radiation Therapy
Vascular Sonography
Nuclear Medicine Technology
Magnetic Resonance Imaging (MRI)
How to Become a Radiologic Technologist
In order to become a radiologic technologist, you must first hold a high school diploma or equivalent. The typical route to becoming a radiologic technologist is through the completion of a curriculum that culminates in certification, obtaining an associate's degree, or pursuing a bachelor's degree.
Ethics
Candidates who apply for the certification and wish to register need to have excellent character and cannot behave in a way that is not becoming to the American Registry of Radiologic Technologists expectations and ethical behaviors. The candidate needs to know, understand, and conduct in accordance with the ARRT Rules and Regulations and Standards of Ethics.
Candidates' backgrounds are thoroughly checked, including checks and inquiries into any felonies, misdemeanors, convictions, criminal activities, court Martials, and any other delinquent issues that could be in violation of the ARRT Rules, Regulations, and Standards of Ethics. Minor problems such as traffic tickets that do not have a drug or alcohol conviction with them are not taken into consideration.
There is a pre-application that new candidates can complete, which will allow them to decide what their ethics qualification is before they begin classes.
Education
The American Registry of Radiologic Technologists (ARRT) offers credentials in medical imaging, interventional procedures, and radiation therapy. The ARRT certifies and registers radiologic technologists in a range of disciplines by overseeing and administering education, ethics, and examination requirements.
As of January 1, 2015, the American Registry of Radiologic Technologists requires candidates who wish to take the national certification examination to have earned an academic degree through a recognized institution. That academic degree must be, at a minimum, an associate's degree. It does not have to be in radiologic science.
Students seeking ARRT certification must have certain medical and practical classes that relate to being a radiologic tech. Before determining which classes to take, students need to determine what type of radiologic technologist they want to be once they have completed their education and training.
These radiology tech categories are available to radiologic technologists:
Once you have chosen your category, a list of classes will be created for you to take in a specific order to optimize your learning and time spent in the classroom.
Certification Program
If after you've obtained your associate's from an accredited institution you choose to pursue training through a certification program, you can expect to take six to twelve months to complete the training. Typical classes include classroom training as well as clinical practice.
Associate of Applied Science Degree
If you choose to obtain training by way of obtaining an associate's degree, you may expect to take two years to complete the degree. Courses will include such things as patient interaction, anatomy, radiological exposure practices, radiologic procedures, and radiation protection.
During the clinical portion of the coursework, you will be trained in how to provide proper patient care depending upon the diagnostic test requested by the attending physician. You will learn how to protect yourself and the patient from radiation during the procedure. You will also be instructed on how to accurately take a medical history and then record data into patient records.
Bachelor's Degree
Some schools offer a bachelor's degree in Radiologic Technology. Many schools offer this curriculum to students who have already obtained their certification as radiologic technologists as a means to expand their education. A bachelor's degree will take approximately four years to complete.
Part of the coursework for a bachelor's curriculum includes general courses that are required of all bachelor's candidates. These courses prepare the student for advanced problem solving, a skill that is highly desirable in most medical fields. They also help the student develop advanced communication skills that are also a necessary part of any occupation within the medical field.
Regardless of your choice, you must be licensed or certified to work as a radiologic technologist.
Returning Student Degree
If you have a position in radiologic technology and wish to specialize in a particular area, you can obtain a post-primary certification in:
Breast Sonography
Vascular Sonography
Magnetic Resonance Imaging (MRI)
Vascular-Interventional Radiography
Quality Management
Cardiac-Interventional Radiography
Bone Densitometry
Along with an ARRT certification, these radiologic technology categories require specified certificates and testing to be registered as this type of radiologic technologist.
New requirements demand that students going for this type of degree need to complete 16 hours of education that is structured within a classroom or online. This requirement was introduced in January 2016.
Certification
Once you have obtained the appropriate training and passed the ARRT certification examination, you are able to pursue licensing as an R.T. (radiologic technologist).
Certification involves either passing an exam given by the state where you want to practice or passing the national examination that is administered by the American Registry of Radiologic Technologists (ARRT). The examination typically takes four hours to complete. The exams test your skills; both educational and ethical, along with everything you learned throughout your training.
To apply for the certification tests, you need to contact their program chairs for the information. As a returning student, you can log onto the ARRT website and complete the applications for the exam you wish to take.
When completing the applications, you should remember:
Students can send in the applications 3 months before their expected graduation date.
Dates, signatures, and pictures must be current up to 6 months prior to the receive date of the ARRT office.
Make certain the application fee is correct and included with the application.
Once you have been accepted, you will receive a Candidate Status Report. This will give you testing information and a testing window in which to take the exam. It also gives you information on proving your identity at the testing site.
You will be allowed three testing tries to pass during a three-year time frame.
Licensing
Requirements for licensing vary from state to state, so it is advisable to determine the individual state procedure for becoming licensed and/or certified before choosing the route for becoming a radiologic technologist.
With advanced education, you can also pursue a career as a radiologist assistant. In this role, you'll ultimately learn to perform many procedures that a radiologist would otherwise do.
Sponsored Programs
Location - Houston, TX, US 77092

The College of Health Care Professions is a Texas-based career education school founded by physicians in the Texas Medical Center solely specializing in healthcare education and dedicated to provid...ing students with training and education Read More

Programs

Limited Medical Radiologic Technologist with MA Skills - Certificate

Location - Tallahassee, FL, US 32309

Since 1977, Keiser University has maintained a practical, hands-on approach to career-focused education to help our students achieve their personal and professional goals.  Our student-ce...ntered approach remains at the foundation of the Keiser University mission and continues to attract students who prefer a more personal learning experience. At Keiser University, you will find a warm, friendly community with faculty and staff truly committed to your success.  Our small class sizes, individualized attention, and one-class-at-a-time schedules create a positive learning environment where you can excel.  Whether your goal is to prepare for a new career or to advance with your current employer, Keiser University is designed around your needs. Keiser University Advantage• Associate, Bachelor's, Master's and Doctoral degree programs• Day, Evening, and Online Classes• Financial Aid to Those Who Qualify• Job Placement Assistance Available• Military-friendly, scholarships for qualified active duty personnel, Veterans, and dependants.  Yellow Ribbon program participant, approved for Veterans trainingPrograms and delivery format vary by campus. Courses are subject to change. Keiser University's programs and curriculum remain in-line with technology and workforce trends, helping you develop the skills and qualifications necessary to succeed in today's job market.  Our career-focused programs make it possible for you to graduate in less time than you may think.  Keiser University is a private, not-for-profit university. Read More

Programs

Radiologic Technology, AS

Location - Louisville, KY, US 40205

Earn your degree from an accredited university by taking all of your classes online. Sullivan University Online delivers high quality online degree programs in an e-Learning environment that allows... you to fit education into your life. Read More

Programs

Limited Medical Radiography Diploma
Is a Radiologic Technologist a Good Career?
According to the US Department of Labor Bureau of Labor Statistics, the job opportunities for radiologic technologists are expected to increase by 28% between 2010 and 2020. This growth rate is higher than the average based upon what is expected for other occupations.
To grow in your career as a radiographer, you may decide to obtain additional training and certification in a more specialized field of radiologic technology. For example, as a radiologic technologist, you may decide to go into mammography, using specialized equipment to perform cancer screenings on breast tissue.
Another area on the cutting edge of radiology is nuclear medicine. This specialty of radiology uses radioactive substances as part of the procedure to diagnose specific diseases. Once you obtain your radiologic technology certification, there are many ways to pursue advanced training and certification, dependent upon your interests.
If you are already certified and looking for a new job, take a look at our guidelines for creating a solid radiologic technologist resume.
The Future of Radiologic Technology
Diagnostic imaging is a growing field. It offers many areas that can enhance your opportunity to pursue a higher salary and advancement. These advanced specialties include interventional radiography, computed tomography, advanced x-rays, and CT scans.