Nuclear Medicine Technologist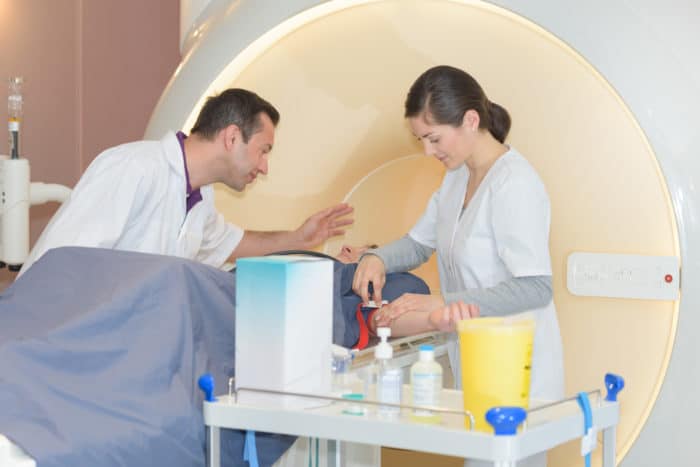 Nuclear medicine technologists (NMTs) specialize in using radioactive materials, called radiopharmaceuticals, to create images of internal organs in a body scanner. A nuclear medicine technologist plays a vital role in the medical field for being able to study bodily functions, examine biological specimens, and diagnose or treat certain medical conditions.
What Does a Nuclear Medicine Technologist Do?
Nuclear medicine technologists prepare and inject small doses of radioactive drugs (radiopharmaceuticals) to patients. They then use high-level imaging equipment to record images of the functioning tissues and organs made possible by the radiation given off by the pharmaceuticals. The images are then interpreted by physicians to study and diagnose infections or disorders.
A nuclear medicine technologist also gives doses of radiation to patients internal to treat medical conditions.
A nuclear medicine technologist must have a thorough knowledge of safety procedures to protect both the patient and themselves from dangerous levels of radiation exposure. After creating accurate images and keeping detailed records of the procedure, the images help physicians to diagnose medical conditions, such as cancer, disease, or tumors.
How Much Does a Nuclear Medicine Technologist Make?
According to the Bureau of Labor Statistics, the median annual salary for an NMT is $79,590 per year or about $38.27 per hour as of 2020. Those employed by colleges or universities earn significantly more than the average. Nuclear medicine technologists employed at medical diagnostic laboratories typically earn slightly less than average.
Where Do NMTs Work?
Most nuclear medicine technologists are required to wear radiation-sensitive badges at all times when on duty. They typically work a 40-hour week, which may include evening or weekend hours, and may also be required to have some on-call responsibilities.
How to Become a Nuclear Medicine Technologist
NMTs must possess at least an associate's degree in nuclear medicine technology or a related healthcare field. However, a bachelor's degree is preferred. Some technologists become qualified by first completing an associate's or bachelor's degree in nursing and then completing the one-year certificate program in nuclear medicine technology.
Nuclear medicine technology programs are offered at teaching hospitals, community colleges, and four-year colleges or universities nationwide. Training includes clinical experience under supervision, as well as coursework in human anatomy, physiology, nuclear chemistry, physics, and computer science.
Not all states require NMTs to become certified, but it is always a wise idea to expand job opportunities and marketability to employers. Nuclear medicine technology certification entails successfully completing required program courses, necessary clinical experience hours, and graduation from an accredited nuclear medicine technology program. Technologists that are interested in specializing in specific procedures, such as PETs, MRIs, or CTs, are required to have a high level of knowledge and pass the offered specialty certification examinations.
Sponsored Programs
Location - Houston, TX, US 77092

The College of Health Care Professions is a Texas-based career education school founded by physicians in the Texas Medical Center solely specializing in healthcare education and dedicated to provid...ing students with training and education Read More

Programs

Radiologic Science Management - Bachelor's Degree

Radiologic Technology Completion Program - AAS Degree

Location - Melbourne, FL, US 32901

Since 1977, Keiser University has maintained a practical, hands-on approach to career-focused education to help our students achieve their personal and professional goals.  Our student-ce...ntered approach remains at the foundation of the Keiser University mission and continues to attract students who prefer a more personal learning experience. At Keiser University, you will find a warm, friendly community with faculty and staff truly committed to your success.  Our small class sizes, individualized attention, and one-class-at-a-time schedules create a positive learning environment where you can excel.  Whether your goal is to prepare for a new career or to advance with your current employer, Keiser University is designed around your needs. Keiser University Advantage• Associate, Bachelor's, Master's and Doctoral degree programs• Day, Evening, and Online Classes• Financial Aid to Those Who Qualify• Job Placement Assistance Available• Military-friendly, scholarships for qualified active duty personnel, Veterans, and dependants.  Yellow Ribbon program participant, approved for Veterans trainingPrograms and delivery format vary by campus. Courses are subject to change. Keiser University's programs and curriculum remain in-line with technology and workforce trends, helping you develop the skills and qualifications necessary to succeed in today's job market.  Our career-focused programs make it possible for you to graduate in less time than you may think.  Keiser University is a private, not-for-profit university. Read More

Programs

Radiologic Technology, AS
Job Outlook
Even though Nuclear medicine technology is considered small within the healthcare industry, the employment of NMTs is predicted to grow by 19 percent between 2010 and 2020. The rate is about as fast as the average for all occupations, and it will result in an additional 4,100 new jobs throughout the decade. Career growth is expected due to the larger aging population that will require more diagnostic procedures performed by trained nuclear medicine technologists.