Cardiac Sonographer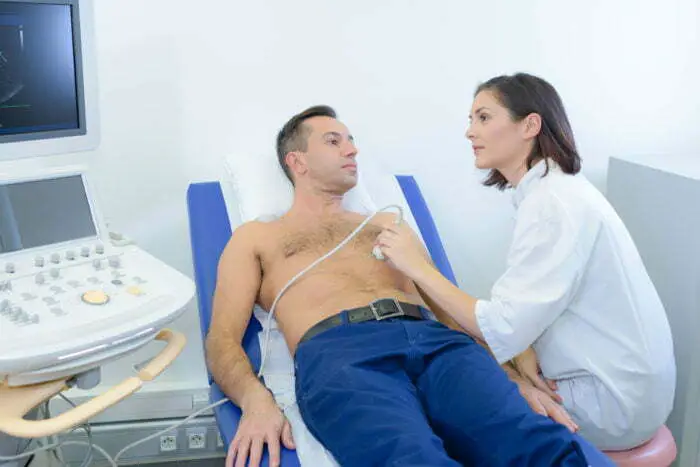 Cardiac sonographers are allied health care professionals that play a pivotal role in a cardiac patient's journey to better health. As a diagnostic cardiac sonographer (or simply an "echocardiographer"), you will help save lives and earn a good salary.
But there's a lot to consider before you firmly decide to pursue this career. The education period and requirements, the number of available cardiac sonographer jobs, and the average cardiac sonographer salaries are all things you will want to examine.
This brief guide will take you over all that entails earning this role, your responsibilities, career outlook, and potential salary range.
What is a Cardiac Sonographer?
A cardiac sonographer is a trained professional that utilizes medical imaging technology to help physicians identify health conditions. Further, echocardiographers also give expecting parents the first glimpses of their baby.
All of this is done by operating ultrasound machines that can provide detailed images of the insides of the body. Sonography is non-invasive, and sonographers scan the area of the body according to the order requested by the patient's attending physician.
What Does a Cardiac Sonographer Do?
A cardiac sonographer operates ultrasound equipment to take images of the heart and provide physicians insight that helps with diagnosis. Depending on the equipment and requirement, the image may be a 2-D or a 3-D image. 
But the job title of a cardiac sonographer entails several other duties:
Understanding the condition of the heart by analyzing factors such as blood flow, valve function, and chamber size
Keeping a record of patient data and test results
Performing administrative duties, including scheduling patient appointments 
Ensuring cleanliness and proper functioning of ultrasound equipment
Assisting physicians with diagnosis
The image produced is called a sonogram, and the exam is called an ultrasound exam. The role is less stressful than a lot of other roles in health care. Considering the average cardiac sonographer salary, it's an excellent career that anybody interested in meaningful and fast-paced work can do. 
Where Do Cardiac Sonographers Work?
Most cardiac sonographers work full-time at hospitals. That said, you can also get hired at a doctor's office, a clinic, or an imaging center. 
Depending on where you get a job, you may need to work in the evenings, on holidays, and on weekends. There is no telling when a cardiac sonographer may be needed in a hospital setting, and the schedule is unpredictable. For this reason, you may need to be on-call if you work at a hospital.
Further, it's important to note that your tasks may change from day to day working in a hospital since patient-load fluctuates. Working in a clinic will allow you to have a more predictable schedule since most patients schedule appointments.
Cardiac Sonographer Salaries
The BLS's latest report on Cardiovascular Technologists and Technicians reveals that these professionals' national average median salary is $70,380 per year, which works out to be $33.84 per hour. 
Therefore, if you want to become a cardiac sonographer, you can expect to receive respectable compensation. It's important to note that the salary depends on your qualifications, experience level, and the demand for cardiac sonographers in the location. 
As your experience level increases, your employer will pay you a higher salary. You may also be offered a supervisory position in the later stages of your career.
Career Outlook
Finding a job as a cardiac sonographer shouldn't be very difficult. Per the BLS's analysis, the job growth for cardiac sonographers is 14%. In other words, there will be 19,100 more cardiac sonographer jobs in 2030 than there are now. 
Becoming a cardiac sonographer is a safe career choice in the short and the long run. 
The demand for cardiac sonographers is expected to increase at a faster-than-normal rate because the average age of the country's population is steadily rising. The elderly are affected by heart disease at higher rates, and the advances in ultrasound technology reduce the need for expensive, invasive procedures.
The state-wise statistics surveyed by the Bureau of Labor Statistics reveal that cardiovascular technologists and technicians make the most money in the following states:
Rhode Island ($85,590)
Oregon ($82,810)
California ($79,490)
New Jersey ($78,850)
District of Columbia ($78,040)
It's also interesting to note that the average cardiac sonographer salary is highest for professionals working at outpatient care centers.
How Do I Become a Cardiac Sonographer?
You will need a high school diploma or GED to obtain the advanced education required to become a sonographer. 
First, you must earn a bachelor's degree in diagnostic medical sonography. You will need at least an associate's degree in diagnostic medical sonography to get a job, but most employers prefer hiring candidates with a bachelor's degree. But the high demand will help you find an entry-level job without much trouble with an associate's degree.
You must make sure that you enroll in a program accredited by the CAAHEP. These programs will teach you about specific sonography procedures and give you the clinical experience you need to work in a healthcare facility. 
After completing an accredited undergraduate program, you can earn credentials such as the Registered Diagnostic Cardiac Sonographer credential offered by the ARDMS. 
Pursuing Higher Education
There are several opportunities to pursue higher education after you get a job as a cardiac sonographer. Some options include getting additional certificates, pursuing a master's degree, or credentials in related medical fields. You may be able to find a related job without much hassle with the proper credentials.
If you have a vision for your career, getting more credentials will undoubtedly make it easier to navigate your career in the direction you want it to go.
There are several online programs that a cardiac sonographer can consider enrolling in, all of which offer the flexibility to balance work and study. You can learn and grow at your own pace. 
As your experience level increases and you earn more credentials, your compensation will also increase.
Sponsored Programs
Location - Austin, TX, US 78752

The College of Health Care Professions is a Texas-based career education school founded by physicians in the Texas Medical Center solely specializing in healthcare education and dedicated to provid...ing students with training and education Read More

Programs

Diagnostic Medical Sonography - AAS Degree

Location - Melbourne, FL, US 32901

Since 1977, Keiser University has maintained a practical, hands-on approach to career-focused education to help our students achieve their personal and professional goals.  Our student-ce...ntered approach remains at the foundation of the Keiser University mission and continues to attract students who prefer a more personal learning experience. At Keiser University, you will find a warm, friendly community with faculty and staff truly committed to your success.  Our small class sizes, individualized attention, and one-class-at-a-time schedules create a positive learning environment where you can excel.  Whether your goal is to prepare for a new career or to advance with your current employer, Keiser University is designed around your needs. Keiser University Advantage• Associate, Bachelor's, Master's and Doctoral degree programs• Day, Evening, and Online Classes• Financial Aid to Those Who Qualify• Job Placement Assistance Available• Military-friendly, scholarships for qualified active duty personnel, Veterans, and dependants.  Yellow Ribbon program participant, approved for Veterans trainingPrograms and delivery format vary by campus. Courses are subject to change. Keiser University's programs and curriculum remain in-line with technology and workforce trends, helping you develop the skills and qualifications necessary to succeed in today's job market.  Our career-focused programs make it possible for you to graduate in less time than you may think.  Keiser University is a private, not-for-profit university. Read More

Programs

Diagnostic Medical Sonography, AS
The Takeaway
Most jobs in the medical field take advanced education to get into. If you choose to become a cardiac sonographer, not only will the training be a lot easier than many other roles in the industry, but you will also make a comparable salary.
If you work well with people and are looking for a relatively less stressful job in health care, echocardiography may be the right avenue for you to explore.