Master's Degree in Radiologic Technology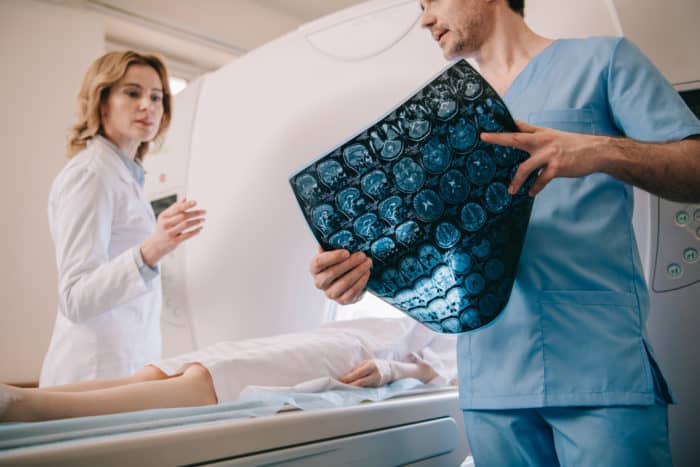 A  master's degree in radiologic technology is essential if you are looking to pursue high-level career positions and management roles within the field. Senior radiologic technologists, referred to as radiologist assistants, are required to obtain a master's degree to be considered for these roles.
What Can You Do With a Master's Degree in Radiologic Technology?
Radiologist assistants work closely with the radiologist to perform advanced imaging tasks for the diagnosis of medical conditions. In order to begin a career as this vital member of the radiology team, individuals need to receive a master's degree from an accredited graduate program to receive certification.
Radiologist assistants must complete this advanced graduate program to be able to perform patient management, assessment, and medical procedures under the supervision of the radiologist. The radiologist assistant position is the highest level of employment within the radiology field, except for the radiologist with MD status.
How Much Can I Make With a Master's Degree in Radiologic Technology?
When students earn a master's degree in radiology, they can expect their salary to double that of a radiologic technologist with an associate's or bachelor's degree. According to the American Society of Radiologic Technologists, radiologist assistants earn a median annual salary of $102,972.
Since radiologic technologists only earn a median salary of $54,340 a year, this advanced degree helps open up very profitable doors within the radiology field.
How Do I near a Master's Degree in Radiologic Technology?
Because there is currently a national shortage of radiologist physicians and radiologist assistants, students graduating from an accredited master's program and attaining certification are sure to find employment quickly. Employment in the field is also expected to grow at a faster pace than the average for all careers in the United States between 2010 and 2020. Radiologist assistants can secure senior positions in diagnostic imaging centers, physician offices, hospitals, medical laboratories, or universities.
Sponsored Programs
Those who complete a master's degree will also have very little difficulty securing a tremendous job immediately following graduation. If you are interested in furthering your education and clinical training within the radiology field, it is recommended that you begin researching the various excellent graduate schools offering master's degrees in radiology immediately. With this advanced degree, you will be on track to start a rewarding, lucrative, and high-level professionals in the rapidly growing radiology industry!