Master's Degree in Radiologic Technology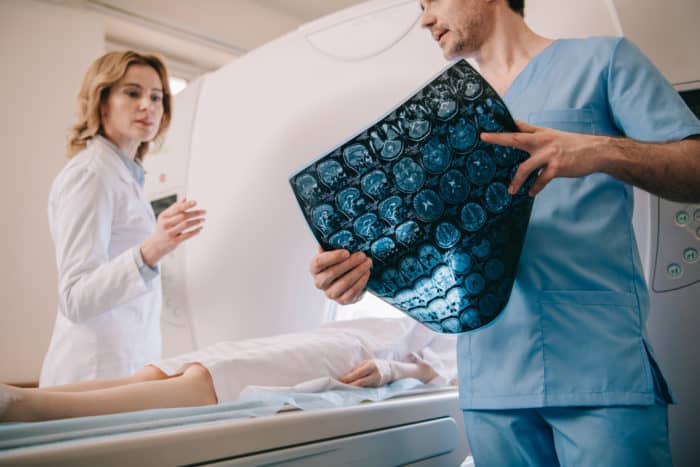 A  master's degree in radiologic technology is essential if you are looking to pursue high-level career positions and management roles within the field. Senior radiologic technologists, referred to as radiologist assistants, are required to obtain a master's degree to be considered for these roles.
What Can You Do With a Master's Degree in Radiologic Technology?
Radiologist assistants work closely with the radiologist to perform advanced imaging tasks for the diagnosis of medical conditions. In order to begin a career as this vital member of the radiology team, individuals need to receive a master's degree from an accredited graduate program to receive certification.
Radiologist assistants must complete this advanced graduate program to be able to perform patient management, assessment, and medical procedures under the supervision of the radiologist. The radiologist assistant position is the highest level of employment within the radiology field, except for the radiologist with MD status.
How Much Can I Make With a Master's Degree in Radiologic Technology?
When students earn a master's degree in radiology, they can expect their salary to double that of a radiologic technologist with an associate's or bachelor's degree. According to the American Society of Radiologic Technologists, radiologist assistants earn a median annual salary of $102,972.
Since radiologic technologists only earn a median salary of $54,340 a year, this advanced degree helps open up very profitable doors within the radiology field.
How Do I near a Master's Degree in Radiologic Technology?
Because there is currently a national shortage of radiologist physicians and radiologist assistants, students graduating from an accredited master's program and attaining certification are sure to find employment quickly. Employment in the field is also expected to grow at a faster pace than the average for all careers in the United States between 2010 and 2020. Radiologist assistants can secure senior positions in diagnostic imaging centers, physician offices, hospitals, medical laboratories, or universities.
Sponsored Programs
Location - Fort Myers, FL, US 33905

Since 1977, Keiser University has maintained a practical, hands-on approach to career-focused education to help our students achieve their personal and professional goals.  Our student-ce...ntered approach remains at the foundation of the Keiser University mission and continues to attract students who prefer a more personal learning experience. At Keiser University, you will find a warm, friendly community with faculty and staff truly committed to your success.  Our small class sizes, individualized attention, and one-class-at-a-time schedules create a positive learning environment where you can excel.  Whether your goal is to prepare for a new career or to advance with your current employer, Keiser University is designed around your needs. Keiser University Advantage• Associate, Bachelor's, Master's and Doctoral degree programs• Day, Evening, and Online Classes• Financial Aid to Those Who Qualify• Job Placement Assistance Available• Military-friendly, scholarships for qualified active duty personnel, Veterans, and dependants.  Yellow Ribbon program participant, approved for Veterans trainingPrograms and delivery format vary by campus. Courses are subject to change. Keiser University's programs and curriculum remain in-line with technology and workforce trends, helping you develop the skills and qualifications necessary to succeed in today's job market.  Our career-focused programs make it possible for you to graduate in less time than you may think.  Keiser University is a private, not-for-profit university. Read More

Programs

Diagnostic Medical Sonography, AS

Location - Clifton, NJ, US 07011

At American Institute, we believe you can become whatever you want to be, and we're ready to help you get there. We pride ourselves on working hard to deliver quality, innovative education to our... students that gives them the skills to begin or enhance their careers. We try to help our students meet their goals of changing or enhancing their careers, and also help prospective employers of our graduates in meeting the workforce needs of the 21st century while actively participating in the communities we operate within. Meeting with one of our friendly and knowledgeable Admissions Representatives is the first step toward deciding on a new career. We are sure you will find our Admissions staff to be helpful, concerned and patient.  It's your Admissions Representative's job to make it as easy as possible for you to get the information that you need to make an intelligent, well-informed decision about your educational options for your future. We want you to be sure that American Institute is the right school for you. Rest assured, you will get answers to all of your questions. Our Admissions Representatives have extensive knowledge of the training programs we offer and if they can't help you, they will consult with others on our staff to get you the answers you need. We have helped hundreds of students like you become a part of American Institute's Family of Schools. Our entire staff is committed to helping you in any way we can. The American Institute locations in Cherry Hill, NJ, Clifton, NJ, Somerset, NJ, Toms River, NJ, and West Hartford, CT, are institutionally accredited by the Accrediting Bureau of Health Education Schools (ABHES). The Accrediting Bureau of Health Education Schools (ABHES) is a recognized accrediting agency by the US Department of Education. Read More

Programs

Diagnostic Medical Sonography

Location - Louisville, KY, US 40205

Earn your degree from an accredited university by taking all of your classes online. Sullivan University Online delivers high quality online degree programs in an e-Learning environment that allows... you to fit education into your life. Read More

Programs

Limited Medical Radiography Diploma
Those who complete a master's degree will also have very little difficulty securing a tremendous job immediately following graduation. If you are interested in furthering your education and clinical training within the radiology field, it is recommended that you begin researching the various excellent graduate schools offering master's degrees in radiology immediately. With this advanced degree, you will be on track to start a rewarding, lucrative, and high-level professionals in the rapidly growing radiology industry!