Guide to Becoming a CT Technologist: Salary, Responsibilities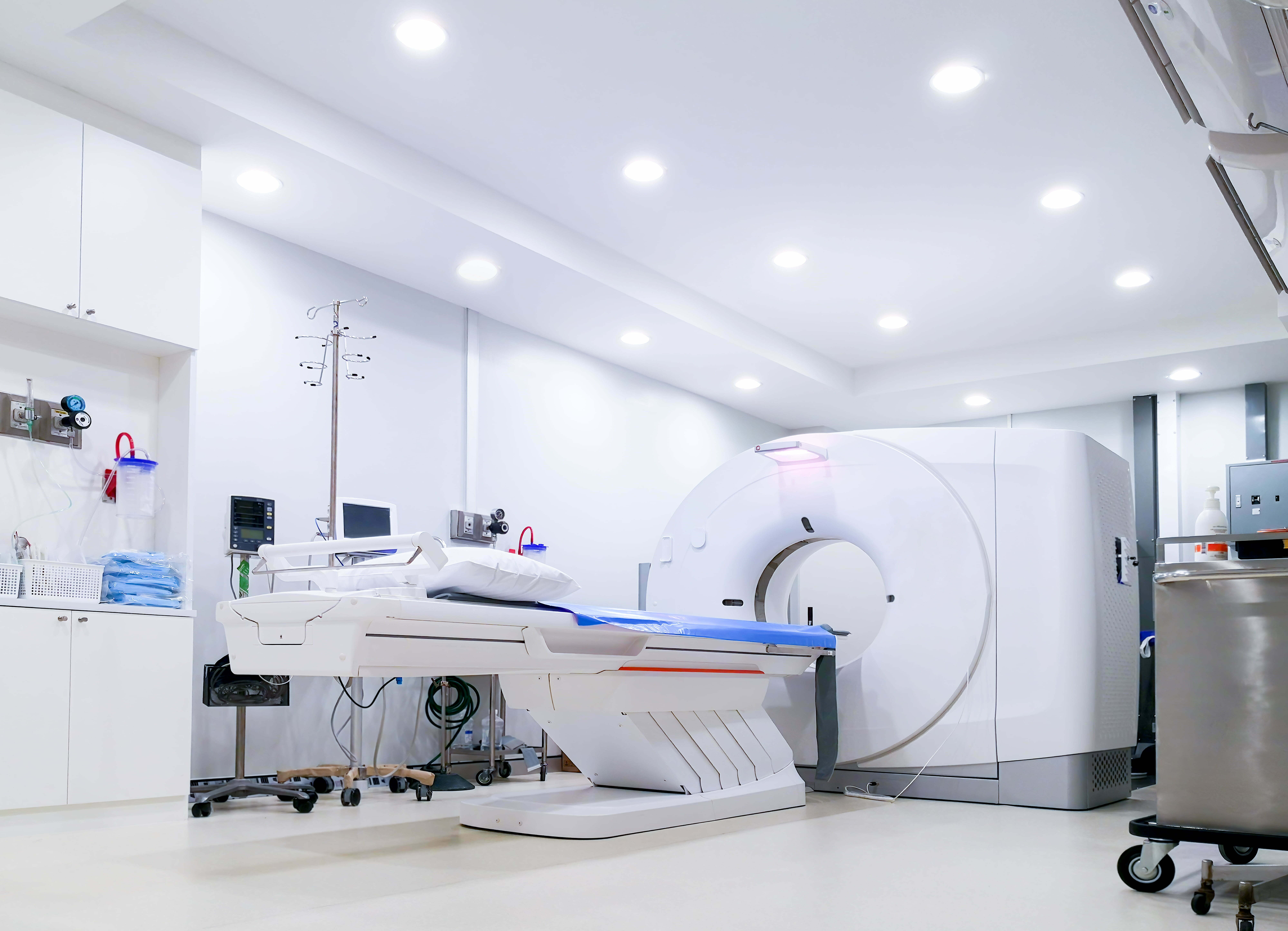 Computed Tomography scans (called CT or CAT scans) allow doctors to look inside the body in great detail. Radiologic scans allow doctors to diagnose patients in all kinds of situations accurately. These scans, taken by a CT Technologist, are helpful in routine dental checkups, emergencies, and also in diagnosing cancer.
A CT scan can be performed on almost any body part, and the scan a patient requires is typically recommended by their physician. 
Performing these scans requires special equipment, sometimes called a CT scanner, that cannot be operated without training. A CT technologist has the advanced understanding required to operate the equipment and possess the interpersonal skills to keep patients calm during scans. 
Becoming a CT technologist can be an excellent career choice for those with strong communication skills passionate about helping people get better. The demand for radiologic technologists is high, training is accessible, and the compensation tends to be generous.
This post discusses everything you need to know about becoming a CT scan technologist. 
What is a CT Technologist?
Computed tomography (CT) scans are non-invasive procedures that use ionizing radiation (X-rays) to make the internal organs visible. A CT technologist's job is to capture images using a CT scanner of the organs and other parts of the body per the recommending doctor's requirement. 
The technology enables a CT technologist to scan body regions from different angles. Since CT scans produce cross-sectional images, they are different from a basic X-ray scan. The scans produce three-dimensional images of inside the body, and in this way, help doctors identify diseases and abnormalities and make a diagnosis. 
CT scans also enable doctors to determine which parts of the body are responding to a patient's treatment. The scans are also often helpful for quick diagnosis in the emergency room. In some cases, radiologic technologists perform CT scans and positron emission tomography scans and combine them to determine the presence and activity of cancerous tumors.
There are different areas that CT technicians can specialize in. For instance, the CT technologists who practice CBCT typically take images of the teeth and jaw. 
On the other hand, head CT scans allow doctors to identify blood clots and aneurysms in the brain. CT technologists can also perform scans on the abdominal region to determine if a patient suffers from pancreatitis, liver cirrhosis, or appendicitis.  
While performing scans is a big part of what entails the job title, CT technologists have other responsibilities in the workplace. 
What Do CT Technologists Do?
Computed tomography technologists use Computerized Tomography (CT) scanners to capture images of a patient's organs and tissues for diagnosis. In simple words, they are responsible for producing diagnostic images known as a CT scan.
A CT technologist must interpret the physician's instructions correctly and capture a clear and helpful image of the area requested. The job's responsibilities include keeping the CT scan equipment clean and ready for patients, administering contrast materials, and positioning patients appropriately to capture the required images.
Furthermore, CT scanners are known to emit radiation that can harm the technologists operating the machine and the patients coming in for their exams. Following the safety procedures to prevent harm from the radiation is a must. 
Skills Required to Become a Computed Tomography Technologist
A CT technologist's responsibility is to ensure that the patients are calm and comfortable throughout the exam. For this reason, a CT technologist must have strong interpersonal skills and must be able to help anxious patients and those in pain to complete their diagnostic exams.
Since a CT technologist will work with advanced equipment day in and day out to produce an accurate CT Scan, having a keen interest in technology is a must. It helps ensure that you know everything there is to know about the machines you operate and that you stay caught up with the latest advancements. 
It is also essential for an aspiring CT technologist to be physically fit. Maneuvering the CT scan equipment to take the images and positioning patients in every exam requires physical effort. 
But most importantly, a CT technologist must understand anatomy and physiology to ensure they get the best images for the diagnosing doctor.
Where do CT Technologists Work?
Many think that the typical CT technologist works at a lab; however, CT technologists have job opportunities at many different workplaces. CT technologists work at hospitals, clinics, and outpatient centers.
The hours these professionals work depend on the work setting. However, since hospitals and trauma centers are operational every day of the year. Technologists working in these settings can expect to work on holidays and weekends.
On the other hand, if a technologist works at a doctor's office, they will only need to work during regular business hours.
CT Scan Technologist Salary
Computed tomography technologists earn an average of $63,710 per year, according to the latest data by the Bureau of Labor Statistics. That works out to $30.63 per hour. However, this data alone does not paint the entire picture about how much CT technologists earn.
Your salary will depend on your location, the workplace, and your experience in the industry in years. The BLS's latest state and area data provide further insight into how much computed tomography technologists make.
Many CT technologists prefer finding work at outpatient care centers since these facilities tend to pay CT technologists the best salary. On average, CT technologists earn $76,200 yearly working at these facilities.
You could earn a higher salary if you decide to move to another state. California's best state to work in, with the average CT technologist earning an annual median salary of $95,010. 
Hawaii, District of Columbia, Alaska, and Massachusetts are some other excellent states to work in as a CT technologist.
Job Outlook
The demand for radiologists is increasing every year, with the BLS projecting a 9% increase in the number of available jobs by 2030. In other words, the United States will require over 21,000 more qualified radiologists by the end of the decade.
Becoming a CT technologist is an excellent career choice since professionals enjoy high job security and are in demand in the coming years.  
How Do I Become a CT Technologist?
To become a CT technologist, you must earn the right credentials. We've broken down the process of becoming a CT technologist into six steps:
#1 Check Local Regulations
Every state has unique requirements for CT technologists. Therefore, it's important to check the local regulations before you look further into getting educated. Some states do not require you to get licensed as a CT technologist. Others require certification and licensure before allowing you to practice.
In states that do not have any requirements, you could get hired by finding a job in a health facility and getting cross-trained to perform a CT technologist's duties.
There are several ways you can become an approved technologist; however, earning the certification offered by the American Registry for Radiologic Technologists (ARRT) is the best-recognized method to become qualified to perform a CT scan. 
The certification is valid across states and will enable you to work virtually anywhere.
#2 Get Your Education
After you determine your state's unique requirements, you should get certified by the ARRT. You can choose to get certified in one of three fields:
Radiography
Nuclear medicine technology
Radiation therapy
To get certified, you will need to earn an associate's degree in radiologic technology in your field of choice. Earning an associate's degree typically takes two years. 
While you can major in any subject of your choosing, majoring in diagnostic medical sonography, radiography, or nuclear medicine technology will ensure that you get the degree and also meet the certification requirements.
You can enroll in these courses at your local community college or technical school. In fact, training at a teaching hospital or enrolling at an ARRT-approved U.S. military training program are two other ways to meet the requirements.
Optionally, you could earn a bachelor's degree with a major in radiology. Earning a master's or doctorate degree is a great way to advance your career.
#3 Get Your First Certificate
After earning your degree or completing an approved radiologic technology program, you must apply for the ARRT radiography certification exam. The test will comprise 220 questions, and you will be certified and registered with the ARRT when you pass.
#4 Gain Experience
The next step is to get hired. A new CT technologist can find work at doctor's offices, hospitals, and imaging centers. The ARRT requires all certified candidates to engage in 16 hours of structured education. This can be in the form of college courses or continuing education. It will take you one or two semesters to meet this requirement. 
In addition to those requirements, you will need to meet the ARRT's clinical requirements. You must complete 125 scans on various body parts under the supervision of a registered radiographer or interpreting physician. 
#5 Earn the Computed Tomography Certification
When you gain the required experience and meet the certification's requirements, you must submit proof of your education and procedures performed to the ARRT. 
When applying for this certification exam, you must answer three ethics questions and attend an ethics review.
The Computed Tomography primary certification exam will have 165 questions covering the four main areas of Computed Tomography: patient care, safety, image production, and procedures. 
It's important to note that the test is evaluated by scaled scoring, so there is no fixed passing score. The passing score depends on the version of the exam you take. That said, most applicants pass the exam on their first attempt. Applicants can attempt the exam three times over three years.
#6 Obtain State Licensure (If Required) 
Getting a state license is not always required. If your state requires you to get licensed, you will need to fill out some paperwork and may need to take a licensing exam. Make sure you check your state's requirements — or the requirements of the state you want to work in — before applying for a job as a CAT scan technologist.
Conclusion: Should You Become a CT Technologist?
No workday is the same for a CT technologist, but every day is a challenge. You can expect to talk patients into feeling comfortable, work with ill patients, and help their doctors with the diagnosis. 
If the prospect of an active and ever-challenging career entices you, becoming a CT technologist may be your calling. You can expect a generous salary and do not have to worry about having trouble finding a job down the road.