Radiology Tech Programs in New Jersey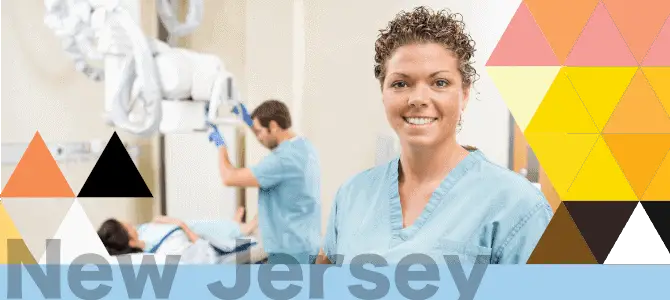 Radiologic technologists, also known as radiographers or rad techs, form an integral part of the healthcare system. Radiologic technologists are usually hired by hospitals, clinics, physicians' offices, outpatient care centers, nursing homes, and standalone facilities that require diagnostic imagery. In fact, according to ARRT, radiologic technologists rank third by number among healthcare professionals, just after physicians and nurses. To learn more about radiology tech programs in New Jersey, keep reading.
Pursuing a career in radiologic technology is not only lucrative but also fulfilling. Radiologic technologists share many traits as with nurses and other professionals with direct involvement in patient care. Compassion, empathy, and good communication skills are paramount for anyone who wishes to have a successful career as a radiologic technologist.
As such, it is important to complete the necessary education, licensing, and soft skill development to be able to apply for the position of a radiologic technologist.
New Jersey offers many opportunities for potential radiologic technologists to acquire the necessary certification and license with some of the best schools offering a variety of programs, including degree and certificate courses.
How to Become a Radiologic Technologist in New Jersey?
To become a rad tech, a student needs to complete the following.
Complete GED or High School
To gain entry to the various radiography programs, a student must have completed a GED or have graduated from an accredited high school. In many cases, a prospective student may have to appear for a selection interview.
Complete a Course in Radiography
In order to pursue a career in radiologic technology, it is a must to complete a JRCERT accredited program for the same. Most schools in New Jersey offer Certificate or Associate Degree courses for prospective rad techs. These courses are mostly full-time and include theoretical, practical, and clinical coursework.

In general, a student must be able to successfully carry out the following tasks after completion of the program:
All diagnostic x-ray processes including computerized axial tomography, bone densitometry, and radiographic procedures
Handle fluoroscopic equipment under the supervision of a licensed physician.
Correctly position the patient for successful diagnostic imaging.
Ensure proper alignment of the x-ray tube towards the image receptor, measuring exposure factors, and tube distance.
Implement proper radiation protection principles.
Post completion of the course duration, the students will be eligible to sit for the American Registry of Radiologic Technologists (ARRT) exam.
Obtain a License
In order to be able to work as a radiologic technologist, you must obtain licensure in addition to the completion of a JRCERT approved course in radiography. Moreover, it must be a 24-month course.
To obtain the license, a student must take the ARRT exam. The Radiologic Technology Board of Examiners, NJ requires students to score at least 75% on the examination to be eligible for licensure.
The ARRT has a three attempt limit which means if a student fails the ARRT exam thrice in consecutive years, he will be ineligible to sit for the exam any further. To become eligible, the student must either complete the educational program again (primary pathway) or fulfill the structured education and clinical experience requirement (post-primary pathway).
Sponsored Programs
Location - Houston, TX, US 77092

The College of Health Care Professions is a Texas-based career education school founded by physicians in the Texas Medical Center solely specializing in healthcare education and dedicated to provid...ing students with training and education Read More

Programs

Radiologic Science Management - Bachelor's Degree

Radiologic Technology Completion Program - AAS Degree

Location - Tallahassee, FL, US 32309

Since 1977, Keiser University has maintained a practical, hands-on approach to career-focused education to help our students achieve their personal and professional goals.  Our student-ce...ntered approach remains at the foundation of the Keiser University mission and continues to attract students who prefer a more personal learning experience. At Keiser University, you will find a warm, friendly community with faculty and staff truly committed to your success.  Our small class sizes, individualized attention, and one-class-at-a-time schedules create a positive learning environment where you can excel.  Whether your goal is to prepare for a new career or to advance with your current employer, Keiser University is designed around your needs. Keiser University Advantage• Associate, Bachelor's, Master's and Doctoral degree programs• Day, Evening, and Online Classes• Financial Aid to Those Who Qualify• Job Placement Assistance Available• Military-friendly, scholarships for qualified active duty personnel, Veterans, and dependants.  Yellow Ribbon program participant, approved for Veterans trainingPrograms and delivery format vary by campus. Courses are subject to change. Keiser University's programs and curriculum remain in-line with technology and workforce trends, helping you develop the skills and qualifications necessary to succeed in today's job market.  Our career-focused programs make it possible for you to graduate in less time than you may think.  Keiser University is a private, not-for-profit university. Read More

Programs

Radiologic Technology, AS
Top Three Schools Offering Courses in Radiologic Technology in New Jersey
When it comes to training, a prospective rad tech should always choose a program that is accredited by JRCERT. This is important for proper learning and training and plays an important role in securing a job. A student can apply at the following schools for a course in radiologic technology:
JFK Muhlenberg Harold B & Dorothy A Snyder Schools-School of Imaging
The JFK Muhlenberg Snyder School of Radiography and Union County College runs a radiography cooperative program that offers the benefits of hospital-based training and a college-based academic course. A student can earn an Associate in Science degree along with a Diploma in Radiography which can help in building a career as a rad tech.
The school offers a full-time course that includes six semesters of professional training spread over the course of two years. A prospective student must have a GED or Adult Diploma or a High School Diploma to be able to enter the course.
Students are required to complete various simulated laboratory sessions before they are allowed to work with actual patients. Clinical training is usually conducted at the JFK Medical Center located in Edison, New Jersey along with other hospitals and facilities in NJ. A student can earn 41 Radiography credits along with 39 General Education credits upon completion of the course.
The program is JRCERT accredited and is also listed for Veteran Training. Upon completion, students will be eligible for the ARRT National Board Registry Examination in Radiography. Enrolment is possible via either of the two schools.
Middlesex County College
The Radiography Education Program offered by Middlesex County College offers the scope of extensive study in the domain of radiography. The course aims at the complete theoretical knowledge and practical skills of the students. As such, students are provided with progressive training in classrooms, laboratories, and clinics.
The school curriculum is designed considering the requirement of prospective radiologic technologists. A student will earn an Associate in Applied Science degree upon completion of the program.

Enrolment to the program is through a selective process due to the limited number of seats available. This is a full-time program and classes are conducted during the day. A student has to attend three semesters every year for at least two years to be able to complete the course. The program must be completed within a span of 2-3 years from the time a student gets entry into the full program track.
The program has a JRCERT and New Jersey Radiologic Technology Board of Examiners accreditation. After completion of the course, students are eligible for the ARRT examination and can apply for licensure in NJ after passing the examination successfully.
Bergen Community College
The Bergen Community College offers an Associate of Applied science degree to students willing to study radiologic technology. The radiography program offered by the college spans over 24 months and is approved by JRCERT as well as the New Jersey Radiologic Technology Board of Examiners.
The program aims to introduce and reinforce ethical practices and principles during the course of study. It is spread over classroom, practical, and clinical components to ensure complete theoretical knowledge and practical skills required by a radiographer.
Clinical sessions are usually carried out at offsite locations and span approximately 1700 hours. The aim of the course is to make students adept at human anatomy, patient care, radiation biology, imaging technique, and equipment. The completion of the course makes a student eligible for the ARRT certification examination and licensure in NJ.
List of Accredited Medical Imaging Programs In New Jersey
JFK Muhlenberg Harold B & Dorothy A Snyder Schools-School of Imaging – Edison – JRCERT Accredited
Middlesex County College – Edison – JRCERT Accredited
JFK Muhlenberg Harold B & Dorothy A Snyder Schools-School of Imaging – Edison – CAAHEP Accredited
Brookdale Community College – Lincroft – JRCERT Accredited
Rowan College at Burlington County – Mount Laurel – JRCERT, CAAHEP, JRCNMT Accredited
Essex County College – Newark – JRCERT Accredited
Bergen Community College – Paramus – JRCERT Accredited
Bergen Community College – Paramus – CAAHEP Accredited
Passaic County Community College – Paterson – JRCERT Accredited
County College of Morris – Randolph – JRCERT Accredited
Rutgers University-Scotch Plains – Scotch Plains – CAAHEP, JRCNMT Accredited
Cumberland County College – Vineland – JRCERT Accredited
Mercer County Community College – West Windsor – JRCERT Accredited