Diagnostic Medical Sonographer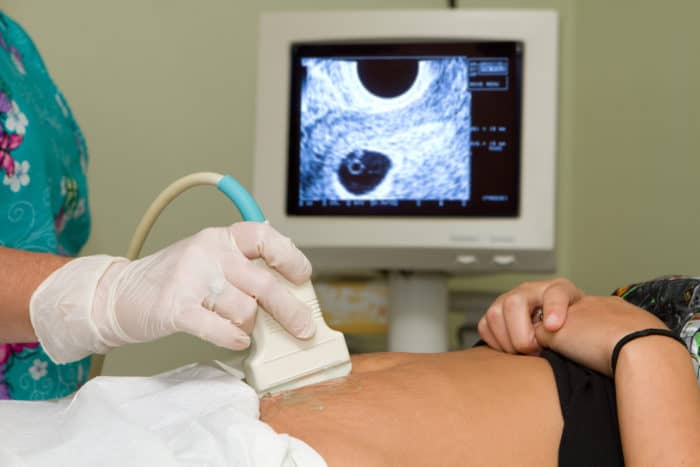 A diagnostic medical sonographer is specially trained to use imaging equipment that directs sound waves into the body of a patient. This is a common procedure known as ultrasound or sonogram. The high-frequency sound waves of the ultrasound are able to create visual images of internal organs so the specialist can evaluate or diagnose various health conditions.
Diagnostic medical sonographers specialize in certain parts of the body, such as the abdominals, breasts, neurological system, or musculoskeletal system. Specialized ultrasound technicians in obstetric and gynecology sonography also perform a multitude of imaging procedures during routine pregnancy visits to measure the growing fetus as well.
What is a Diagnostic Medical Sonographer?
Diagnostic medical sonographers prepare patients for their sonograms by recording their history and answering all inquiries about the ultrasound. They apply gel to the patient to help the sound waves produce images of the inside of the patient's body and use the equipment to create reports for physicians and other medical staff.
What Does a Diagnostic Medical Sonographer Do?
Sonographers work with patients and physicians. The primary responsibilities of a diagnostic medical sonographer include:
Maintaining sonography equipment and managing its settings
Educating the patient about the procedure and answering any questions
Preparing the exam room and ultrasound technology equipment to conduct tests
Recognizing and recording the appropriate anatomy and pathology using the equipment 
Alerting medical staff of abnormalities that require immediate attention
Writing reports based on the test results 
Passing on reports and images to the concerned medical professionals
Assisting radiologists with procedures
Reporting equipment failure 
Diagnostic medical sonographers may work solo or as part of a larger team. They are expected to manage multiple patients and must be flexible and able to keep up an active pace.
Diagnostic Medical Sonographer Salary
According to the United States Bureau of Labor Statistics, as of May of 2020, the median annual salary of a diagnostic medical sonographer is $75,920. While the lowest ten percent earned less than $53,790, the top ten percent earned more than $105,340.
In outpatient care centers, diagnostic medical sonographers make a median salary of $69,740. This is slightly more than those in hospitals and physician offices. Technicians in medical and diagnostic laboratories earn a median salary of $62,290. This is slightly less than those in state, local, or private hospitals.
Job Outlook for Diagnostic Medical Sonographers
According to the US Bureau of Labor Statistics, employment in the diagnostic medical sonography field is predicted to grow by 44 percent between 2010 and 2020. Because ultrasound imagining technology is steadily evolving, it is expected to replace more invasive and costly medical procedures in the future.
Therefore, the profession is predicted to grow much faster than the average for all other occupations. There are currently 53,700 positions nationwide, but there are projected to be 77,100 jobs in 2020.
How to Become a Diagnostic Medical Sonographer
In order to begin a career as a diagnostic medical sonographer, individuals need to achieve formal education training. Colleges and universities offer both associate's and bachelor's degree options to students interested in sonography. Employers in the field usually prefer job applicants to possess a degree from an accredited institute. However, these programs are required to follow a specific curriculum and clinical training guidelines.
It is highly recommended to obtain professional certification in the field to increase marketability to future employers. Some states also require that ultrasound professionals are licensed to legally practice in the career. For achieving certification through the American Registry of Diagnostic Medical Sonographers, individuals need to pass an examination related to their specialty. Becoming certified demonstrates a high level of skill and knowledge.
Sponsored Programs
Location - Austin, TX, US 78752

The College of Health Care Professions is a Texas-based career education school founded by physicians in the Texas Medical Center solely specializing in healthcare education and dedicated to provid...ing students with training and education Read More

Programs

Diagnostic Medical Sonography - AAS Degree