Radiology Tech Programs in Georgia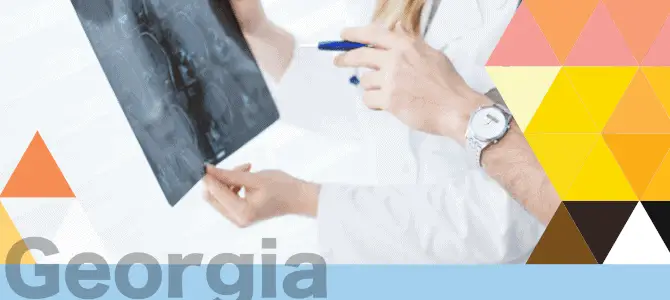 Students who wish to pursue a career as X-ray technicians or radiologic technologists have a wide variety of options when it comes to radiology tech programs in Georgia. If you're interested in obtaining a radiology degree from an accredited school in Georgia, then you have come to the right place. Read on to find out more.
For students looking to pursue a career in using diagnostic imaging equipment, the programs mentioned below will result in a certificate (1-year), diploma (1-year), bachelor's (4-years), or an associate's degree (2-years) in radiology and will prepare you for a career as a Rad Tech.
How to Become a Radiology Tech in Georgia
High-School Education
Students who are interested in a career as a radiology technician should take math and science subjects, including biology, chemistry, physics, and anatomy, in high school for a good foundation.
Bachelor's Degree /Associate Degree / Certification Program
After high school, students can enroll themselves for an associate degree from an accredited radiography program.
Licensing Requirements
The licensing of radiologic technologists depends on the state you live in. For instance, in the state of Georgia, Rad Techs do not need to be licensed. However, there is new legislation being processed that could change that requirement in the future, which is why it's best to go with an accredited program to improve your future prospects.
CEP (Continuing Education Programs)
Radiology technicians also need to pass a certification program either in their state or from the American Registry of Radiologic Technologists (ARRT) and need to complete continuing education courses every two years to remain up-to-date with the latest technologies and methods in the field.
Specialization
One of the major benefits of getting a Rad Tech education is the broad spectrum of specializations that one can pursue in the field. Some of the options available for radiologic technologists who are looking to specialize in specific diagnostic testing include:
Bone densitometry
Mammography
Vascular sonography
Breast sonography
Vascular-interventional radiography
Cardiovascular-interventional radiography
Computed tomography
Fluoroscopy
Research and Development
The specialization will require additional training and an ARRT certification in the area that you want to specialize in.
Quick Facts
Radiologic Tech degree programs are available in Georgia Universities and Colleges.
Certificate level program available
Associate degrees
Radiology Technician Education
Radiography programs are available in the state of Georgia for those who want to pursue a career as a radiography technologist. Out of all the options, the associate's degree program is the most common. The associate's degree program can last for either six months to a year and includes both clinical and classroom training.
While studying in any radiography program, students will get the opportunity to study human anatomy, pathology, radiation physics and protection, image evaluation, and medical ethics and patient care. While not all radiography programs in the United States require accreditation from the Joint Review Committee on Education in Radiologic Technology (JRCERT), getting enrolled in an accredited program may increase the future career prospects of a student.
Additionally, in order to become a licensed professional, one needs to take the certification exam from the state or the American Registry of Radiologic Technologies (ARRT). Here are some of the top schools for those who want to become radiology technicians.
Sponsored Programs
Location - Dallas, TX, US 75243

The College of Health Care Professions is a Texas-based career education school founded by physicians in the Texas Medical Center solely specializing in healthcare education and dedicated to provid...ing students with training and education Read More

Programs

Limited Medical Radiologic Technologist with MA Skills - Certificate

Location - Melbourne, FL, US 32901

Since 1977, Keiser University has maintained a practical, hands-on approach to career-focused education to help our students achieve their personal and professional goals.  Our student-ce...ntered approach remains at the foundation of the Keiser University mission and continues to attract students who prefer a more personal learning experience. At Keiser University, you will find a warm, friendly community with faculty and staff truly committed to your success.  Our small class sizes, individualized attention, and one-class-at-a-time schedules create a positive learning environment where you can excel.  Whether your goal is to prepare for a new career or to advance with your current employer, Keiser University is designed around your needs. Keiser University Advantage• Associate, Bachelor's, Master's and Doctoral degree programs• Day, Evening, and Online Classes• Financial Aid to Those Who Qualify• Job Placement Assistance Available• Military-friendly, scholarships for qualified active duty personnel, Veterans, and dependants.  Yellow Ribbon program participant, approved for Veterans trainingPrograms and delivery format vary by campus. Courses are subject to change. Keiser University's programs and curriculum remain in-line with technology and workforce trends, helping you develop the skills and qualifications necessary to succeed in today's job market.  Our career-focused programs make it possible for you to graduate in less time than you may think.  Keiser University is a private, not-for-profit university. Read More

Programs

Radiologic Technology, AS
Featured Programs
1.     Albany State University – West Campus
Albany State University is high up on the list of top institutions for those pursuing an associate degree in radiology. Due to limited clinical placements, the university only accepts a small number of applicants each year for this 28-month program. As a result, admissions for the program are based on a points system (GPA, TEAS scores, prerequisite course grates, etc.) and considered to be extremely competitive. Those looking to gain admission to this program are advised to obtain as many points as possible.
Address: 2400 Gillionville Rd, Albany, GA 31707
Website: Albany State University
2.     Athens Technical College – Radiography
Athens Technical College is a unit of the Technical College System of Georgia. Founded in 1958, as Athens Area Vocational-Technical School, it was renamed to its current name in 2000. The university has a very successful radiography program with an impressive 100% pass ratio. The goal of the Associate of Applied Science degree program in radiography is to make students clinically competent while having enough knowledge to quickly adapt to new and demanding situations. The 40-month program is accredited by the JRCERT.
Address:800 U.S. Highway 29 North, Athens GA 30601-1500
Website: Athens Technical College
3.     Augusta Technical College – Radiography
The Radiologic Technology program offered by Augusta Technical College is accredited by the Joint Review Committee on Education in Radiologic Technology (JRCERT). The program has a 100% passing ratio and a 100% job placement after completion, which makes it one of the most desired institutions for aspiring radiology technicians in Georgia. The purpose of the 30-month competitive progressive program is to help students develop their technical, professional, and academic knowledge in the field of radiography for better job possibilities.
Address:3200 Augusta Tech Drive, Augusta GA 30906
Website: Augusta Technical College
4.     Atlanta Technical College
The Radiologic Technology associate degree program that's offered by Atlanta Technical College is a sequence of courses that have been prepared to provide students with in-depth knowledge in radiology departments and related industries. The 40-month Radiologic Technology associate degree program has been accredited by the JRCERT and is in high demand with a 100% pass rate and 97% job placement.
Address:800 U.S. Highway 29 North, Athens GA 30601-1500
Website: Atlanta Technical College
5.     Grady School of Radiologic Technology – Radiography
If you are looking for a certification program in radiography in Georgia, then this one should be right up your alley. This 23-month, full-time program awards a certificate from the Grady Health System after graduation. With limited-size classes, students get the advantage of a more intimate experience. After completion, the certification that's awarded to the students is accredited by the American Registry of Radiologic Technologists.
What makes this program different is that Grady has articulation agreements with the Atlanta Metropolitan State College and the Georgia State University at Perimeter College, so upon graduation, students are going to be awarded an Associate of Science degree in radiologic technology by the respective college after the college prerequisites have been met.
Address:80 Jesse Hill Jr. Drive, SE, Atlanta GA 30303
Website: Grady School of Radiologic Technology
Career Opportunities for Radiology Technicians in Georgia
The average salary for professional radiology technicians is around $55,000 per year. While radiology technicians are always in high demand, the areas with the most employment opportunities in Georgia and the highest paying jobs are the Atlanta-Sandy Springs-Roswell metro areas. Overall employment of radiologic technologists, according to the Bureau of Labor Statistics, is expected to increase by 21% by 2022.
List of Accredited Medical Imaging Programs In Georgia
including X-Ray Tech, Nuclear Medicine, Sonography
Chattahoochee Technical College – Acworth – JRCERT Accredited
Albany State University – Albany – JRCERT, CAAHEP Accredited
Albany Technical College – Albany – JRCERT Accredited
Athens Technical College – Athens – JRCERT Accredited
Atlanta Technical College – Atlanta – JRCERT Accredited
Emory University – Atlanta – JRCERT Accredited
Augusta Technical College – Augusta – JRCERT Accredited
Augusta University – Augusta – JRCERT Accredited
College of Coastal Georgia – Brunswick – JRCERT Accredited
Columbus Technical College – Columbus – JRCERT, CAAHEP Accredited
Dalton State College – Dalton – JRCERT Accredited
West Georgia Technical College-Douglas – Douglasville – JRCERT Accredited
Oconee Fall Line Technical College – Dublin – JRCERT Accredited
West Georgia Technical College-LaGrange – LaGrange – JRCERT Accredited
Gwinnett Technical College – Lawrenceville – JRCERT, CAAHEP Accredited
Central Georgia Technical College-Macon – Macon – JRCERT Accredited
Lanier Technical College – Oakwood – JRCERT Accredited
Georgia Northwestern Technical College – Rome – JRCERT, CAAHEP Accredited
Armstrong State University – Savannah – JRCERT, CAAHEP Accredited
Ogeechee Technical College – Statesboro – JRCERT, CAAHEP Accredited
Wiregrass Georgia Technical College – Valdosta – JRCERT Accredited
Southeastern Technical College – Vidalia – JRCERT Accredited
Central Georgia Technical College-Warner Robins – Warner Robins – JRCERT Accredited
Coastal Pines Technical College – Waycross – JRCERT Accredited
Source:
1 – https://nces.ed.gov/collegenavigator/