Radiology Tech Programs in California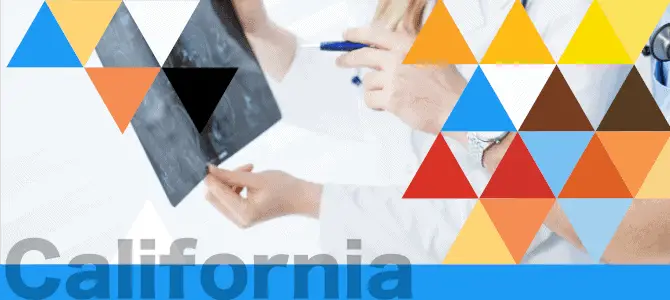 California students who want to pursue a career in medical imaging have a wide variety of schools and degrees to choose from. Continue reading to learn your options for radiology tech programs in California.
In California and the rest of the country, people can refer to radiologic technologists as radiology technicians or x-ray Technicians, depending on how many education qualifications they have, and the duties they perform.
Radiologic technologists' training options include:
(up to) 1-year certificate/diploma
2-year associate's degree or a
4-year bachelor's degree
Upon completion of your degree, you may choose to expand your scope of work by taking on additional certificate programs in Nuclear Medicine Technology, Mammography, CT scan, MRI, and Cardiovascular-Interventional Technologies.
In this article, we'll discuss the most common path to becoming a radiology technician and where to find radiology tech programs in California.
How to Become a Radiologic Technologist in California
The process of becoming a radiologic technologist is less intensive than other healthcare professions and demands the basic higher educational requirements in California. Here are the steps to achieving the required skills:
#1 – Complete your high school diploma or a GED
Almost all colleges or higher-education courses require you to complete high school and pass the GED. But paying attention to the sciences or mathematics will help you do better in your radiology training. If possible, high school students should intern in a healthcare setting to have a stellar college application.
#2 – Earn a postsecondary certificate or degree
Those who plan to seek certification must complete technician training accredited by the Joint Review Committee on Education in Radiologic Technology (JRCERT) or the American Registry of Radiologic Technologists (ARRT). Radiology technician programs are available at the certificate, associate degree, and bachelor's degree levels.
A certificate program is usually 1-year
An associate's degree requires 2 years and
A bachelor's degree takes 4 years
Of all of them, students prefer completing an associate's degree. If you're looking to have a career in supervisory or teaching positions, a bachelor's or master's degree is recommended.
The coursework at all levels consists of classroom and laboratory instruction covering anatomy, medical terminology, patient positioning, radiation protection, infection control, and radiation pathology.
#3- Get Certified
There are no national licensing required radiologic technologists but many states have their own licensing process. Getting certified with the ARRT will inevitably provide professionals with better career prospects and also establishes in the field.
This process entails submitting your academic record, filling out an ethics pre-application, and passing an exam that evaluates the knowledge and skills required for an entry-level radiology technician.
If a student wants to pursue further studies in radiology, they can seek certification in Mammography, Bone Densitometry, or Cardiac-Interventional Radiography with the AART.
#4 – Get licensed to work in radiology in California
The State of California Employment Development Department offers the below certificate licenses in radiology:
Diagnostic Radiologic Technology
Therapeutic Radiologic Technology
Mammographic Radiologic Technology
Fluoroscopy Permit
A student is required to pay an application fee of $75 for every exam that they want to take. The application fee is about $70 fee which must be paid every 2 years. They must also submit a copy of their degree from an accredited radiology program. All exams are administered by the American Registry of Radiologic Technicians.
The state of California requires students to renew their licenses every two years. Each student needs to complete 24 education hours in two years. In California, it is mandatory to complete four of these hours in digital radiography and students can choose from other areas of radiology, such as mammography and bone densitometry.
Sponsored Programs
Location - Houston, TX, US 77074

The College of Health Care Professions is a Texas-based career education school founded by physicians in the Texas Medical Center solely specializing in healthcare education and dedicated to provid...ing students with training and education Read More

Programs

Limited Medical Radiologic Technologist with MA Skills - Certificate

Location - Sarasota, FL, US 34240

Since 1977, Keiser University has maintained a practical, hands-on approach to career-focused education to help our students achieve their personal and professional goals.  Our student-ce...ntered approach remains at the foundation of the Keiser University mission and continues to attract students who prefer a more personal learning experience. At Keiser University, you will find a warm, friendly community with faculty and staff truly committed to your success.  Our small class sizes, individualized attention, and one-class-at-a-time schedules create a positive learning environment where you can excel.  Whether your goal is to prepare for a new career or to advance with your current employer, Keiser University is designed around your needs. Keiser University Advantage• Associate, Bachelor's, Master's and Doctoral degree programs• Day, Evening, and Online Classes• Financial Aid to Those Who Qualify• Job Placement Assistance Available• Military-friendly, scholarships for qualified active duty personnel, Veterans, and dependants.  Yellow Ribbon program participant, approved for Veterans trainingPrograms and delivery format vary by campus. Courses are subject to change. Keiser University's programs and curriculum remain in-line with technology and workforce trends, helping you develop the skills and qualifications necessary to succeed in today's job market.  Our career-focused programs make it possible for you to graduate in less time than you may think.  Keiser University is a private, not-for-profit university. Read More

Programs

Radiologic Technology, AS
Featured Programs
Foothill College
Located in California, the Radiologic Technology Program offered at Foothill College has been in existence since 196. It has been accredited by the Joint Review Committee on Education in Radiologic Technology, the California Department of Public Health, Radiation Health Branch, and the Western Association of Schools and Colleges. The course is 23-months long and includes lectures, laboratory time, and supervised experience in an affiliated clinic. Upon completion, students will receive an Associates in Science Degree in Radiologic Technology and qualify them to then take the California State Licensing Exam or the ARRT Registry Exam.
Address: 12345 El Monte Rd, Los Altos Hills, CA 94022
Website: https://www.foothill.edu/
Mesa College
The San Diego Mesa College conducts a 24-year Radiologic Technology (RADT) program that is a combination of theory and practical experience in the affiliated hospitals. Upon graduation, students are eligible to apply for national certification with the ARRT and also a state license to work in California. Graduates will also obtain fluoroscopic and venipuncture within the course of the program. Coursework includes the principles of equipment operation, image processing, radiographic procedures, protection from radiation, patient care, and clinical practice.
Address: 7250 Mesa College Dr, San Diego, CA 92111
Website: http://www.sdmesa.edu/
San Joaquin Delta College
The San Joaquin Delta College offers a 2-year long certificate program in Radiologic Technology. Upon completion, graduates can register for the state certification examinations to qualify them to work in the state of California. If students complete a degree alongside this program, they will be eligible to be registered nationally with the ARRT. This certificate course is accredited by the Joint Review Committee on Education in Radiologic Technology and the California State Department of Health.
Address: 5151 Pacific Ave, Stockton, CA 95207
Website: https://www.deltacollege.edu/
Accreditation information
College accreditation is a method by which institutions evaluate each other. Although voluntary, accreditation means that radiology technician schools in California can set mutually accepted standards of excellence that every institution should aspire for.
College accreditation is an indication that the institution adheres to the goals and standards recognized as important to the industry. Plus if you're looking for financial support, keep in mind that only accredited schools receive Federal and state financial aid.
Accreditation also ensures a smooth transfer of credits between colleges should you need to transfer. Most masters and research programs tend to accept students who have completed their degree from a reputable and accredited school. This is quite understandable as you would want a proficient cohort undertaking higher education. Most reputed certification boards will not permit students from unaccredited schools to write their licensing exams which will limit career opportunities.
List of Accredited Medical Imaging Programs In California
Antelope Valley College – Lancaster – JRCERT Accredited
Bakersfield College – Bakersfield – JRCERT Accredited
Ca–ada College – Redwood City – JRCERT Accredited
Cabrillo College – Aptos – JRCERT Accredited
California State University-Northridge – Northridge – JRCERT Accredited
Chaffey College – Rancho Cucamonga – JRCERT Accredited
Charles Drew University of Medicine – Los Angeles – JRCERT Accredited
City College of San Francisco – San Francisco – JRCERT Accredited
Cosumnes River College – Sacramento – CAAHEP Accredited
Cypress College – Cypress – JRCERT, CAAHEP Accredited
El Camino College – Torrance – JRCERT Accredited
Foothill College – Los Altos Hills – JRCERT, CAAHEP Accredited
Fresno City College – Fresno – JRCERT Accredited
Kaiser Permanente School of Allied Health Sciences – Richmond – JRCERT Accredited
Loma Linda University – Loma Linda – JRCERT, CAAHEP, JRCNMT Accredited
Los Angeles City College – Los Angeles – JRCERT Accredited
Merced College – Merced – JRCERT, CAAHEP Accredited
Moorpark College – Moorpark – JRCERT Accredited
Mt. San Antonio College – Walnut – JRCERT Accredited
Mt. San Jacinto College – Menifee – CAAHEP Accredited
National University – Costa Mesa – JRCERT Accredited
Orange Coast College – Costa Mesa – JRCERT, CAAHEP Accredited
Pasadena City College – Pasadena – JRCERT Accredited
San Diego Mesa College – San Diego – JRCERT Accredited
Santa Barbara City College – Santa Barbara – JRCERT Accredited
Santa Barbara City College – Santa Barbara – CAAHEP Accredited
Santa Rosa Junior College – Santa Rosa – JRCERT Accredited
University of California – San Diego – CAAHEP Accredited
University of California-Irvine – Orange – JRCERT Accredited
Yuba Community College – Marysville – JRCERT Accredited
Career Opportunities for Radiology Techs in California
The following are just a few cities within the state of California where graduated students are able to work after they receive their diplomas in the field.

Los Angeles, California
Los Angeles has many listings available for radiology technicians who are able to work with complex imaging equipment used to treat patients with several unique diseases in specific parts of the body that would otherwise be hard to locate and diagnose.

San Francisco, California
There is currently a large demand for a number of radiology technicians to work within the San Francisco branch. They require technicians that can help assist the physicians in currently treating all kinds of people.

Sacramento, California
Radiology technologists are needed in the Sacramento region in order to help assist a number of medical specialists to get the images they need in order to point out and have a detailed description of a disease or a trauma to the body. Many hospitals require this type of profession on a regular basis.

San Diego, California
Radiology technicians are even required over in San Diego, specifically for various MRI treatments. They can serve to help take image samples of the patients from within the MRI rooms.
Source:
1 – https://nces.ed.gov/collegenavigator/
2 – http://nursingschoolsnearme.com/accredited-nursing-schools-california/