Becoming an Ultrasound Technician: Definitive Career Guide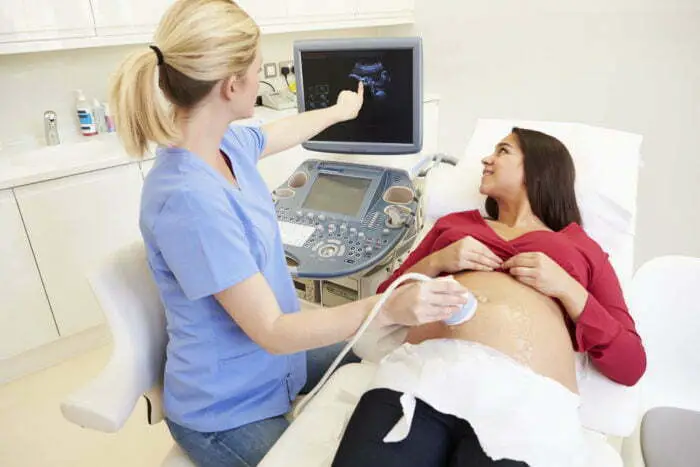 The healthcare industry is the largest employer in the United States. With the demand for qualified health care professionals rising every year, it couldn't be a better time to consider a career in healthcare and specifically as an ultrasound technician.
One of the best things about a career in healthcare is that you don't have to be a doctor or a nurse. According to U.S. News, diagnostic medical sonographers is among one of the best jobs in healthcare. 
Diagnostic medical sonographers or ultrasound technicians play an integral role in patient health, and becoming one can be as easy as completing a two-year degree. If you already have experience in the industry, you can establish a career as an ultrasound technician in as little as a year. 
But the best part about becoming an ultrasound technician is that it is possibly one of the least stressful jobs you can get. In addition, ultrasound technicians get paid a respectable salary and have an excellent career outlook.
If you're interested in pursuing a career as a diagnostic medical sonographer, we have highlighted the role's responsibilities, average salary, work environment, career options and outlook, and a guide to becoming an ultrasound technician in this post.
What is an Ultrasound Technician?
An ultrasound technician aids doctors and other medical professionals in diagnosing a patient's illness. The technician uses ultrasound technology to take images of internal organs.
The equipment used by the technician during this process emits high-frequency sound waves, which get reflected by organs. The machine detects the reflected sound waves and displays images of tissues inside the body.
An ultrasound technician may examine the abdomen, reproductive system, prostate, heart, and blood vessels, among other body parts. Using specialized equipment is a reliable way to detect pregnancy, heart diseases, vascular diseases, and other ailments, including a wide range of digestive problems.
Since the role of an ultrasound technician is an allied health career, you can specialize in imaging specific body parts after becoming a diagnostic medical sonographer.
An example of specializing includes obstetric sonography. These specialized professionals have expertise in dealing with the female reproductive system.
In contrast, vascular ultrasound technicians work to create images of blood vessels in the body. There are a variety of specialty areas you can choose to get certified in as an ultrasound technician: 
Abdomen 
Breast
Vascular 
Musculoskeletal 
Fetal Echocardiography 
Obstetrics and Gynecology 
Pediatric Sonography 
Adult Echocardiography 
Pediatric Echocardiography 
What Does an Ultrasound Technician Do?
Ultrasound technicians work with patients and physicians throughout their workday, fulfilling their various responsibilities. Understanding how sonographers are involved in patient care will help you get a peek into what your workday will look like. 
The main responsibilities of a diagnostic medical sonographer include:
Maintaining sonography equipment and managing its settings
Educating the patient about the procedure and answering any questions
Preparing the exam room and ultrasound technology equipment to conduct tests
Recognizing and recording the appropriate anatomy and pathology using the equipment 
Alerting medical staff of abnormalities that require immediate attention
Writing reports based on the test results 
Passing on reports and images to the concerned medical professionals
Assisting radiologists with procedures
Reporting equipment failure 
An ultrasound tech may work alone or as a part of a team. You can expect to manage multiple patients and must display flexibility on fast-paced days. It is also critical that you maintain confidentiality with the patients. 
Bear in mind that your responsibilities may vary slightly depending on your work setting.
Competencies of Successful Ultrasound Technicians 
Not everyone is right for a job in healthcare. You must build some skills and competencies aside from getting your education to become an adept ultrasound technician. The soft skills that will help you succeed in this role include:
Attention to detail: Keeping a keen eye on the images the ultrasound technology produces is a big part of the job. You must recognize what normal and abnormal images look like.
Excellent communication skills: Ultrasound techs work with patients through most of their workday. You must actively listen to patients' questions and ensure that you understand what they're asking completely before giving them an answer. You will also need to instruct the patients to position themselves in specific ways so you can record accurate images.
Interpersonal skills: The ability to comfort your patients makes the exam easier for patients. Top-notch social skills are essential to have if you want to succeed as an ultrasound tech.
Reading comprehension: Sonographers receive specific written instructions from the patient's physician, letting them know what images are required. Good reading comprehension ensures that you send back reports that meet the doctor's requirements.
Where Do Ultrasound Technicians Work?
Most patients come across sonographers in diagnostic imaging centers. However, sonographers also work at clinics, doctor's offices, hospitals, and long-term care facilities. 
You will have great flexibility in choosing your work setting and can work with any patient population you prefer as long as you have the right credentials.
If you choose to work in a hospital or a facility that's open overnight, you can expect to work nights, weekends, and holidays. This can get physically taxing since you will be on your feet most of the workday. But it's important to note that sonographer jobs typically have relaxed work schedules.
Ultrasound Technician Salary
The Bureau of Labor Statistics' latest report states that ultrasound technicians make a median annual salary of $59,100. The pay increases as the technicians gain more experience and specialize. The top 10% of ultrasound technicians make a median annual salary of $96,790.
If you're willing to move to another state for a better-paying job, consider moving to California. Ultrasound technicians make a median annual salary of $108,400. Technicians in Hawaii are also offered $100,000 positions. Alaska, the District of Columbia, and Rhode Island are some other states with high-paying jobs you can consider moving to.
Job Outlook
The Bureau of Labor Statistics estimates the job market for ultrasound technicians to grow by 14% between 2020 and 2030. The growth rate is higher than average, and therefore, qualified professionals shouldn't have trouble finding a job. 
Since the country's population is aging and the number of individuals over 65 will double by 2060, healthcare professionals such as sonographers will continue to be in demand. Finding a job won't be difficult throughout your career.
How Do I Become an Ultrasound Technician?
There are two ways to become an ultrasound technician, and you will need to pick a path depending on where you are in your career (or haven't started one yet). 
If you already have experience as a healthcare professional, you can complete a one-year certificate program and start your career as a sonographer. 
On the other hand, if you don't have experience or a degree, you must complete either a two- or four-year degree in diagnostic medical sonography. After getting your degree and gaining experience, you can specialize (by completing a certification course) and get your license to practice if your state requires it.
You will need to get a high school diploma or a GED before you can get a degree or certificate. 
Let's now discuss the different paths to becoming an ultrasound technician in detail:
Step #1: Earn A Degree 
You can either get an associate's or bachelor's degree in diagnostic medical sonography, which takes two and four years to complete, respectively.
Associate's Degree in Diagnostic Medical Sonography
Associate's degree programs teach you how to operate the specialized equipment and also how to provide patients with quality care as an ultrasound technician. In addition, the program will also require you to master legal, ethical, and regulatory subjects concerning the role.
These programs typically take 18-24 months to complete and give you the necessary knowledge to get an entry-level position. 
If you decide to get an associate's degree, you can expect to spend most of your time in a laboratory setting. Further, most schools require you to complete an externship at a local lab or medical facility before awarding the degree.
If you intend to specialize in some area, getting an associate's degree will not suffice. Certification organizations require sonographers to have a bachelor's degree and a year of experience to apply in a specialization training program.
Bachelor's Degree in Diagnostic Medical Sonography
While getting an associate's degree is a great way to start your career as an ultrasound technician, many aspiring sonographers opt to get a bachelor's degree in the field since it enables them to specialize after gaining experience.
A bachelor's degree program in diagnostic medical sonography isn't much different from other bachelor's degree programs. The program will involve taking general education classes and courses related to your major. 
Like any other bachelor's degree program, you will take classes related to your major in the program's second half. The additional education you get (compared to the associate's degree) will further strengthen your problem-solving skills and prepare you for the role.
Regardless of which degree you choose to earn, ensure you enroll in a program accredited by the Commission on Accreditation of Allied Health Education Programs (CAAHEP). It will ensure that your credentials are valid everywhere and you can get further education without any hassle.
Step #2: Get Certified
Students are required to have professional experience before they can get certified as an ultrasound technician. You can work to earn this experience during or after completing your degree program. As mentioned earlier, if you already have experience in the healthcare industry, even in a different role, you are eligible to get certified.
There are a handful of certification organizations for sonographers in the U.S.; the best known of which is the American Registry for Diagnostic Medical Sonography (ARDMS). 
Many states require sonography students to become certified in one of the five specialties offered by the organization before they can begin practicing.
Other organizations that offer certifications to sonography students include:
American Registry for Radiologic Technologists (ARRT)
Cardiovascular Credentialing International (CCI)
Joint Commission on Allied Health Personnel in Ophthalmology (JCAHPO)
Bear in mind that different certification authorities offer certificates in different areas of specialization. Getting certified by the ARDMS is a popular choice, and the organization offers the following certifications:
Registered Diagnostic Medical Sonographer (RDMS)
Registered Vascular Technologist (RVT)
Registered Diagnostic Cardiac Sonographer (RDCS)
Registered Physician in Vascular Interpretation (RPVI)
To get any of these certificates, you must pass the Sonography Principles & Instrumentation Examination (SPI) in addition to the corresponding specialty examination.
While certification programs don't take as long to complete as degree programs, you will still gain plenty of hands-on experience.
Step #3: Get Licensed
Getting licensed is different from getting certified. Licensure provides you with the legal permission you need to practice sonography as an ultrasound technician. On the other hand, getting certified is voluntary and demonstrates your competency in an area of specialty.
New Mexico, New Hampshire, Oregon, and North Dakota are the only four states that mandatorily require every sonographer to get licensed. To get your sonography license, you will need to complete a board-approved sonography course and get a certification. Applicants are further required to get a criminal background check.
Bear in mind that if you've completed your degree and are beginning to meet clinical experience requirements, you can apply for a temporary license so you can practice.
The licensure must be renewed every two years, which requires you to provide an additional application, pay a non-refundable fee, and provide proof of continued certification.
How to Pick the Right Ultrasound Technician School
There are several ultrasound technician schools across the country, but picking the school that provides you with the education you need is critical for your success. 
To pick the right ultrasound technician school, consider the three following criteria:
Accreditation
It's always best to enroll in a program accredited by the CAAHEP or the JRCDMS. 
Enrolling in a program accredited by a regional agency is the next best thing. 
Avoid enrolling in an unaccredited program since it makes you ineligible for financial aid and specialty certification.
State-of-the-Art Facilities
When you get hired, you will work with the latest equipment every day. Therefore, it is important to find a school with the latest equipment, so there are no lapses in your knowledge of operating the equipment. 
Applying what you learned in the classroom will help you understand what you're learning much better. Make sure you take a tour of the ultrasound technician school and understand how much access you will have to the labs on campus.
Externship Opportunities
The best way to understand what the job entails is to get out in the field yourself. Only enroll in a school that partners with local medical facilities and provides students with externship opportunities. 
Real-life experience is invaluable, and externship opportunities enable you to shadow a working professional and ask questions about the challenges and rewards of the role. 
Sponsored Programs
Location - Mcallen, TX, US 78504

The College of Health Care Professions is a Texas-based career education school founded by physicians in the Texas Medical Center solely specializing in healthcare education and dedicated to provid...ing students with training and education Read More

Programs

Diagnostic Medical Sonography - AAS Degree

Location - Fort Myers, FL, US 33905

Since 1977, Keiser University has maintained a practical, hands-on approach to career-focused education to help our students achieve their personal and professional goals.  Our student-ce...ntered approach remains at the foundation of the Keiser University mission and continues to attract students who prefer a more personal learning experience. At Keiser University, you will find a warm, friendly community with faculty and staff truly committed to your success.  Our small class sizes, individualized attention, and one-class-at-a-time schedules create a positive learning environment where you can excel.  Whether your goal is to prepare for a new career or to advance with your current employer, Keiser University is designed around your needs. Keiser University Advantage• Associate, Bachelor's, Master's and Doctoral degree programs• Day, Evening, and Online Classes• Financial Aid to Those Who Qualify• Job Placement Assistance Available• Military-friendly, scholarships for qualified active duty personnel, Veterans, and dependants.  Yellow Ribbon program participant, approved for Veterans trainingPrograms and delivery format vary by campus. Courses are subject to change. Keiser University's programs and curriculum remain in-line with technology and workforce trends, helping you develop the skills and qualifications necessary to succeed in today's job market.  Our career-focused programs make it possible for you to graduate in less time than you may think.  Keiser University is a private, not-for-profit university. Read More

Programs

Diagnostic Medical Sonography, AS
Emerging Opportunities for Ultrasound Technicians
As new technology evolves in the field of medical imaging, new opportunities appear, expanding the bounds of how you can navigate your career. Some of the emerging opportunities in sonography include:
Traveling Sonographer
If the idea of moving to new places every few months and working with the best teams across the country seems exciting to you, you could consider becoming a traveling sonographer.
You can get in touch with a staffing agency, which will give you short-term contracts. You will be filling in for sonographers that are on leave or vacation. Most reputable staffing agencies cover all the travel and housing expenses in addition to providing per diem expenses, which is an excellent benefit of becoming a traveling sonographer.
Telemedicine
Telemedicine involves two healthcare professionals in different locales sharing patient information through electronic means. Diagnostic medical sonographers play a key role in telemedicine since specialized physicians are not always available at rural medical facilities.
In these circumstances, sonographers work with the patients directly and communicate their findings with the appropriate healthcare professional via telemedicine. The patients can then receive the correct treatment.
Career Advancement Opportunities
Getting certified as an ultrasound technician will give you an edge over other applicants since the voluntary education shows your dedication to your role. You must continue to earn continuing education units to keep your ultrasound technician certification valid.
Sonographers that specialize in more than one area have better employment opportunities and get paid a higher salary. However, specialization is only one of the paths to advancing your career as a sonographer.
You can choose to pursue a related role such as a clinical laboratory technologist, a radiologic technologist, or a nuclear medicine technologist. Regardless of what you choose to do, you must remember that programs require you to take courses in a specific order. 
Every program has a curriculum that builds on what you learned previously. Therefore, you can expect the topics to become more and more complex towards the end of the program. 
Conclusion: Should You Become an Ultrasound Technician?
If you possess excellent soft skills and can see yourself working with patients and aiding physicians in providing the right treatment, a career in sonography may be perfect for you. The pay is great, and finding a job as an ultrasound technician won't be a hassle. 
There couldn't be a better time to consider starting a career in healthcare, and now that you understand the education requirements, all you have to do is work on getting the right credentials to become a part of the thriving industry.