Radiology Tech Programs in Oregon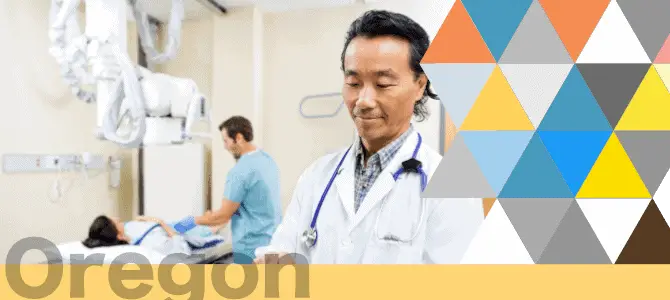 Universities, colleges, career schools, and other learning institutions in Oregon offer aspiring radiology techs the perfect foundation to build their promising careers. Therefore, you need a quality learning institution in order to make the most out of your training. This is exactly what these institutions offer. To learn more about radiology tech programs in Oregon, read below.
Oregon radiology learning institutions offer students a wide array of options from which they can decide which career to follow in the future. Some of these courses are career-specific while some are just but general radiology courses. On the other hand, you also have the leisure of choosing online learning institutions. These institutions are cheap, convenient, and highly flexible.
How to Become a Radiology Technician in Oregon
Residents of Oregon who wish to get certified as state radiology technicians have to provide their licenses to their various employers. This license is issued on application by the Oregon Board of Medical Imaging. This board is specifically entrusted with the task of managing the medical imaging sector in Oregon.
On the other hand, the board offers specifically limited scope exams for specific career sectors within the medical imaging sector. The careers sectors include are sonography, radiation therapy, nuclear medicine, radiography, x-ray machine operations, and magnetic resonance imaging. These are the main limited scope career exams available.
In addition to sitting for the exam, you will have to pay an application fee and submit necessary documents such as your graduation and identification documents. Once licensed, you will have to go through a compulsory 24-hour educational course. This course is meant to be done every two years while you are renewing your license.
Facts About Radiology Schools in Oregon
There are five institution offering certificate programs in radiography science
The average population of radiology students within the state of Oregon is about 18,000 students per institution
The annual tuition range for universities and colleges within the state lies between $7,900 and $20,000
The annual tuition range for career schools within the state is about $7,700
There are 5 universities and colleges in Oregon offering radiology degree programs
There is one learning institution in the state offering bachelor's degree programs in radiology and 2 offering associate degree programs in the same field
The average annual salary for an average radiology technician in Oregon is about $63,000
Sponsored Programs
Location - Clifton, NJ, US 07011

At American Institute, we believe you can become whatever you want to be, and we're ready to help you get there. We pride ourselves on working hard to deliver quality, innovative education to our... students that gives them the skills to begin or enhance their careers. We try to help our students meet their goals of changing or enhancing their careers, and also help prospective employers of our graduates in meeting the workforce needs of the 21st century while actively participating in the communities we operate within. Meeting with one of our friendly and knowledgeable Admissions Representatives is the first step toward deciding on a new career. We are sure you will find our Admissions staff to be helpful, concerned and patient.  It's your Admissions Representative's job to make it as easy as possible for you to get the information that you need to make an intelligent, well-informed decision about your educational options for your future. We want you to be sure that American Institute is the right school for you. Rest assured, you will get answers to all of your questions. Our Admissions Representatives have extensive knowledge of the training programs we offer and if they can't help you, they will consult with others on our staff to get you the answers you need. We have helped hundreds of students like you become a part of American Institute's Family of Schools. Our entire staff is committed to helping you in any way we can. The American Institute locations in Cherry Hill, NJ, Clifton, NJ, Somerset, NJ, Toms River, NJ, and West Hartford, CT, are institutionally accredited by the Accrediting Bureau of Health Education Schools (ABHES). The Accrediting Bureau of Health Education Schools (ABHES) is a recognized accrediting agency by the US Department of Education. Read More

Programs

Diagnostic Medical Sonography
Career Opportunities for Radiology Technicians in Oregon
The projected job growth rate in the state of Oregon is estimated to be about 29.1% by the year 2020. This implies the job opportunities are slowly increasing within the state. There are over 67 active major hospitals in the state and even more medical centers. All these are very good places to look for available job opportunities. In addition to this, you can go to imaging centers, physician offices, and clinics.
Accredited Medical Imaging Programs In Oregon
including X-Ray Tech, Nuclear Medicine, Sonography
Oregon Institute of Technology – Klamath Falls – CAAHEP Accredited
Oregon Health & Science University – Portland – JRCERT Accredited
Portland Community College – Portland – JRCERT Accredited