Radiologic Technologist Salary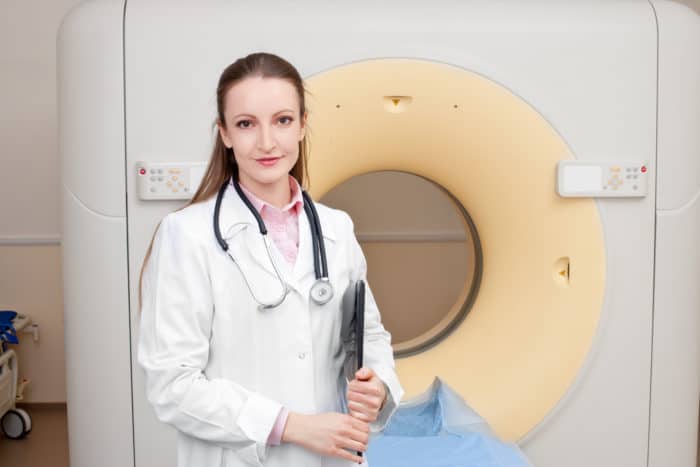 As of August 27, 2020, the average radiology technologist salary in the United States is $59,901 with the range falling between $54,601 and $66,101 a year according to Salary.com. Depending on one's experience, certifications, and training, the salary for a radiology tech can vary significantly.
According to the U.S. Bureau of Labor Statistics (BLS), a majority of the estimated 205,590 radiologic technologists work in hospitals – about 59 percent as of 2018, which is a decrease of 2% since 2010. Radiology techs may work nights, weekends, or emergencies and the level of education and geographic location will influence the salaries of most technologists.
Since all states require licensure and/or certification for radiology technologists, holding those credentials does not affect salary. However, Radiologic Technologists' salaries and responsibilities may be affected by how well-trained they are in different diagnostic technology. X-rays, CT scans, and MRI scans are some of the medical diagnostic technology radiology technicians use.
Factors That Effect Radiologic Technologist Salary
Level of Education: certificates, associate's degree, bachelor's degree
Type of Facility: hospitals, physician office, laboratories
Geographic Location
Radiology Tech Salary & Medical Imaging Specializations
Specializing in a certain diagnostic imaging technology can impact how much Radiology Technologists earn. If one is only trained in X-ray technology, then their salary will reflect that level of training.
Specialties come in the form of certificates, and many are provided in exclusive certification programs or as concentrations in associate's or bachelor's programs. Radiology Technologists, who are cross-trained with numerous medical diagnostic technology, or very specialized professionals, like radiology technicians who can conduct mammograms, will be in high demand and have higher salaries. Here are comparisons of salaries from specializations in Radiology Technology.
Radiology Salary By Specialization
Regions Paying the Highest Radiology Tech Salary
How Much do Radiology Technologists Make By State
Below are detailed comparisons of each state's average annual salary for radiology technologists. It is important to know that even if a state has a high salary, some geographic areas in that state may have lower salaries. For example, the state of New York may have a very high salary for its radiology technologist. However, the salary calculation may be lopsided because of the immense expenses and competition in the New York City metropolitan area. Living and working in different areas of upstate New York may have drastically different base salaries. In addition, some states, like ones with a low population or an aging population, could require more radiology technicians.
New York – $69,250
Washington DC – $74,040
California – $81,060
Massachusetts – $73,650
Washington – $74,290
Pennsylvania – $60,101
Illinois – $58,170
New Jersey – $60,420
Maryland – $68,310
Connecticut – $72,160
Opportunities For Higher Salaries in Radiology & Medical Imaging
On an academic level, students can work in radiology technology with a certificate, associate's, or bachelor's degree. The BLS states that the associate's degree is the most common degree to hold, so to stand out, many students may want to earn a bachelor's degree.
The BLS also states holding multiple certifications, such as being certified to provide x-rays, mammograms, MRIs, CT scans, could improve one's salary and the likelihood of being hired. Further education may also enhance one's professional position. After several years of work experience, a person can also work toward becoming a registered nurse or a radiologist, which requires a medical degree.
Starting out in the world of radiology technology can open up new opportunities and provide new knowledge that can prepare you for a career in nursing or as a doctor.
What if I'm just getting started in Medical Imaging? – Salary For Beginners
If you are already in the medical imaging sector, you might want to invest time in certificate programs. Many community colleges and radiological schools will offer certificate programs specifically for working radiology technologists so they can become trained in new medical imaging technology. These programs will tend to cater to your schedule, especially since many workers work different hours in the day or on weekends.
I'm not sure medical imaging is right for me. Can I get my "feet wet" with any healthcare programs?
It is understandable to not want to dive into a very specific academic or training program within a narrow medical specialty. One of the best ways to get one's feet wet is to become a medical assistant. Many medical assistants perform general duties at hospitals and medical centers. If responsibilities at work need to expand, one can decide to enroll in a certificate program in radiology technology to add a few specialties under their belt.