Radiologic Technologist Schools in Alabama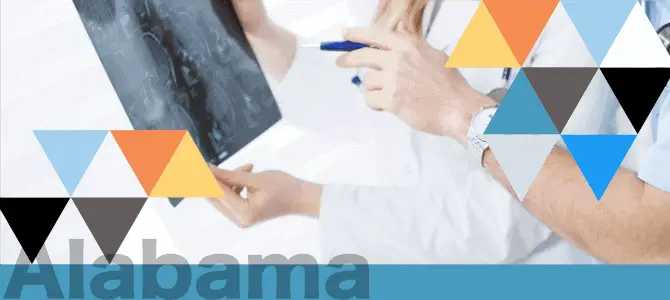 Universities, colleges, career schools, and other learning institutions offer a wide variety of radiology-related programs from which one can learn a whole lot about the trade. They teach all about the various skills required for one to be a radiology technician such as patient care. In addition to this, they also teach all about the technologies one is required to master in their career as a radiology technician such as X-ray imaging and the idea behind a Sonograph. A career as a radiology technician in Alabama is quite promising considering the fact that a number of career opportunities are available and more are expected to arise in the course of time. However, make sure to choose the right learning institutions for you. Consider all your interests, career expectations, and skills and pick one that is the most suitable.
Some interesting facts about radiology schools in Alabama
Alabama contributes about 6% of the Radiology institutions in the nation
The expected job growth for the state of Alabama is expected to be about 28% by the year 2020
There is only 1 institution offering a bachelor's degree program in radiology
There are 6 institutions offering associate degree programs and 3 offering certificate programs on the same
There are 8 universities and colleges offering degree programs in radiology
The annual range of tuition for radiology based programs in career schools and community colleges is in-between $5,000 and $12,000
The annual range of tuition for radiology based programs in universities and colleges is in-between $2,000 and $10,000
How to become a radiology technician in Alabama
Alabama is one of the few states in the United States that do not necessarily require one to be licensed in order to practice radiology. This does not mean that you do not have to be certified by the ARRT (American Registry of Radiology Technologists). Most employers in the state are after individuals that have been certified by the ARRT. Therefore, it is side that one seeks for the ARRT certification before diving into the radiology job sector. In addition to this, you will be required to have graduated from an accredited institution in the state. This means at least 2 years in school and at least another two in your residency. However, for the bachelor's degree, you will need to attend school for 4 years; 2 in class and 2 in the field. The ARRT certification will need to be renewed every two years in order to maintain your relevance.
Career opportunities for radiology technicians in Alabama
Currently, it is approximated that there are around 3,500 career opportunities in Alabama with an expected growth of 28% by the year 2020. Most of these career opportunities are available in hospitals, clinics, imaging centers, and physician offices. There are also quite a number of organizations in Alabama that offer radiology technician positions, most of which are state-owned. In the private sector, there are several doctors who have their own offices in the state and offer career opportunities to new graduates.
Quick Facts
Radiologic Technology degree programs available in Alabama Universities and Colleges.
Certificate level program available
Associate degrees
Bachelors degrees
Master's degree
Sponsored Programs
Accredited Medical Imaging Programs In Alabama
Midlands Technical College – Columbia – JRCNMT Accredited
Lurleen B. Wallace Community College – Opp – CAAHEP Accredited
George C. Wallace State Community College-Hanceville – Hanceville – CAAHEP Accredited
University of South Alabama – Mobile – JRCERT Accredited
Southern Union State Community College – Opelika – JRCERT Accredited
Jefferson State Community College – Birmingham – JRCERT Accredited
H. Councill Trenholm State Community College – Montgomery – JRCERT, CAAHEP Accredited
George C. Wallace State Community College-Hanceville – Hanceville – JRCERT Accredited
George C. Wallace Community College-Dothan – Dothan – JRCERT Accredited
Gadsden State Community College – Gadsden – JRCERT Accredited
Featured Programs In Alabama
Source: