Radiation Therapy Schools in Georgia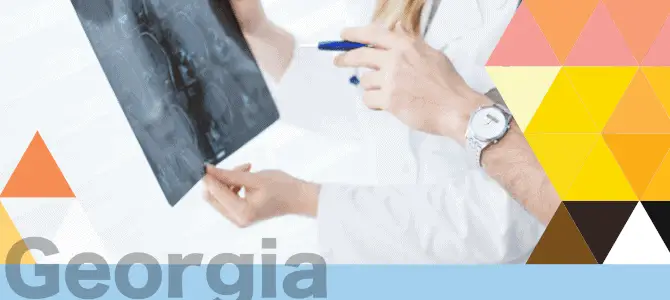 There are a number of options on offer in Georgia that lead to being a qualified Radiation Therapist. At the entry-level are 12-month certificate programs for those with no medical background, bridge programs for practicing therapists without formal qualifications, full baccalaureates with a concentration in Radiation Therapy, and post-baccalaureate certificates for those with an existing Radiologic Technology degree. Some programs also include online and distance elements, although there are no fully online programs currently available. To learn more about radiation therapy schools in Georgia, keep reading.
As the state of Georgia does not require a specific education level in order to practice in the state, aspiring Radiation Therapists, therefore, have the freedom to choose the type of program that suits them and their career ambitions best.
How to Become a Radiation Therapist in Georgia
Unlike most other states, Georgia does not require Radiation Therapists to be licensed and therefore does not require Radiation Therapists to hold professional credentials for that purpose. However, in the absence of a state licensing program, professional credentials are arguably more important in Georgia than in other states as they demonstrate to potential employers that a candidate for a Radiation Therapy role has received the appropriate education and training to perform the role effectively.
The American Registry of Radiologic Technologists (ARRT) is the industry body that Radiation Therapists will need to apply to in order to obtain their professional credentials. ARRT requires three key elements from Radiation Therapists in order to be able to grant their request to be registered with the organization and receive their evidence of professional credentials.
First on the list is the completion of an appropriate accredited program of study that is at least an associate degree level or completion of an appropriate accredited program of study plus a separate associate or higher degree.
Building on the knowledge and skills gained through their educational program, Radiation Therapists are required to take the ARRT examination to demonstrate their mastery of this material. The examination is a half-day, computer-based test. The threshold for a pass is set at a scaled score of 75. Three attempts at the examination in a three-year period are permitted.
Finally, Radiation Therapists must become familiar with the ARRT code of ethics and answer ethics-based questions on their application form to demonstrate that they are of good moral character.
Once ARRT credentials have been awarded to a Radiation Therapist, they must undertake to keep their knowledge and skills current by pursuing Continuing Education courses once every two years, plus Continuing Qualification courses once every ten years.
View also:
Sponsored Programs
Location - Houston, TX, US 77092

The College of Health Care Professions is a Texas-based career education school founded by physicians in the Texas Medical Center solely specializing in healthcare education and dedicated to provid...ing students with training and education Read More

Programs

Radiologic Science Management - Bachelor's Degree

Radiologic Technology - AAS (Completion Program)

Location - Louisville, KY, US 40205

Earn your degree from an accredited university by taking all of your classes online. Sullivan University Online delivers high quality online degree programs in an e-Learning environment that allows... you to fit education into your life. Read More

Programs

Limited Medical Radiography Diploma

Location - Baton Rouge, LA, US 70809

Fortis College is a small private college providing in-demand career training for those seeking entry-level positions in a variety of professions.
Accredited Radiation Therapy Schools in Georgia
Georgia Southern University – Armstrong Campus
Part of the state university system of Georgia, Georgia Southern University is a public research and teaching university with 27,000 students on roll. It has three campuses and offers its Radiologic Sciences program at its Armstrong campus in Savannah.
The Radiologic Sciences program offers five concentrations in its baccalaureate program: Radiography, Radiation Therapy, Sonography, Nuclear Medicine, and Cardiovascular Interventional Science. The Bachelor of Science program is open to students without any medical background, as well as to radiographers who are seeking certification in radiation therapy. It also offers a bridge program to a baccalaureate for non-degreed, practicing technologists, therapists, and sonographers. Also available is a post-baccalaureate certificate in radiation therapy for students who already hold a Bachelor's degree in Radiologic Science and wish to seek additional certification in Radiation Therapy.
The first year of the bachelor's program requires students to be on-campus for all classroom and lecture courses. Beginning in the third semester, the program shifts to a mix of online courses complemented by clinical rotations in nine possible settings across the state. Minimal on-campus attendance is required in the final three semesters.
The program is accredited by the Joint Review Committee on Education in Radiologic Technology. (JRCERT) and approved by the American Registry of Radiologic Technologists (ARRT).
Radiologic Sciences Program
Armstrong State University
11935 Abercorn Street
Savannah, GA 31419
912-344-2565
Website: https://www.armstrong.edu/academic-departments/radsci-radiation-therapy
Augusta University
Augusta University is a public research university and medical center and is part of the state university system of Georgia. It offers a Bachelor of Science degree in Radiologic Sciences with a major in Radiation Therapy. The program is accredited by the Joint Review Committee on Education in Radiologic Technology (JRCERT) and has been reviewed and approved by the American Registry of Radiologic Technologists (ARRT).
The first two years and 60 credit hours of the program are devoted to general education requirements. The final two years (five semesters including the summer) are dedicated to the Radiation Therapy educational curriculum and the content has a strong bias towards math and physics. Clinical rotations all take place within 75 miles of the Augusta campus. Students generally spend two days per week in class or labs and three days per week at their clinical rotation.
Health Sciences Campus,
EC 2433
987 St. Sebastian Way
Augusta, GA 30904
706-721-4176
Website: https://www.augusta.edu/
Grady Health System
Grady Health offers a 12-month course of study in Radiation Therapy that results in an award of a certificate from Grady Health System upon graduation. Classes are limited in size by the availability of clinical placements and only around a dozen students are admitted each year. Admission to this program is therefore competitive and minimum requirements include a high school GPA of 2.5 and a combined SAT score of 850 or ACT score of 18.
Students spend at least 21 hours per week in the clinical setting and are instructed in radiation protection and standard precaution procedures. The School of Radiation Therapy is affiliated with several clinical sites where students can build their skills through coming into contact with different types of equipment and techniques. Students rotate through radiation treatment areas, nursing, radiation therapy simulation, and dosimetry.
The program is accredited by the Joint Review Committee on Education in Radiologic Technology (JRCERT) and approved by the American Registry of Radiologic Technologists (ARRT). Students who satisfactorily complete the program and also hold at least an associate level degree from another institution, are eligible to apply for professional credentials from ARRT.
Admissions Office
Schools of Radiation and Imaging Technologies
Grady Health System
80 Jesse Hill Jr. Drive, SE – P.O. Box 26095
Atlanta, GA 30303
404-616-3610
Website: https://www.gradyhealth.org/static/schools-of-radiation-and-imaging-technologies/school-radiation-therapy/