Radiation Therapy Schools In Texas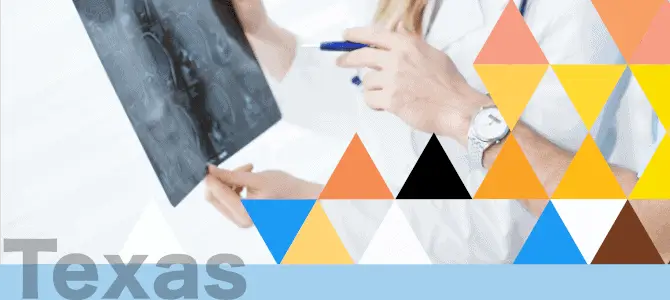 If you are interested in the general field of Radiologic Technology, an associate degree is available in this subject that may offer direct access to some entry-level Radiologic Technician roles. For example, Tarrant County College offers a two-year Associate in Applied Science in Radiologic Technology. As for radiation therapy schools in Texas, we have listed several below located in Houston, Dallas, Galveston, Amarillo, and San Marcos.
However, specialization as a Radiation Therapist requires additional study. nevertheless, if you are confident that becoming a radiation therapist is the right role for you, you may choose to study an accredited program in Radiation Therapy that leads directly to qualification in this discipline.
How to Become a Radiation Therapist in Texas
The Texas Medical Board (TMB) handles the licensure of Radiation Therapists under the broader category of Radiologic Technicians. The TMB requires candidates to complete a pre-screening document collection step before the processing of the licensure application can begin. 
In addition to identity verification and a criminal record check, documents required include a full transcript of the educational program completed and a copy of ARRT credentials.
In order to become a practicing radiation therapist in Texas, you'll need to obtain a license to practice. To obtain your license, you will need to acquire professional credentials from an accredited educational institution.
In addition to being required for licensure purposes, obtaining professional credentials also offers reassurance about the competence and knowledge of the credentialed therapist to employers and patients alike. The credential-awarding body for Radiation Therapists is the American Registry of Radiologic Technologists (ARRT).
In order to obtain professional credentials from ARRT, individuals must achieve certain educational criteria, pass an examination, and undertake to uphold the ethical standards set by ARRT.
View also:
Educational Requirements
The educational requirements for obtaining professional credentials from the ARRT include the completion of an associate-level degree (or higher) in any subject from an accredited educational institution. Additionally, you must complete an educational program specifically created for Radiation Therapists.
Both requirements can be met by completion of an associate or baccalaureate degree in Radiation Therapy.
Ethical Requirements
The ethical requirements for obtaining ARRT credentials are laid out in the ARRT Standard of Ethics document. Candidates must answer specific ethics-related questions as part of their application documentation.
Examination Requirements
You are permitted three attempts to pass the ARRT examination in a three-year period. The computer-based test includes approximately 200 questions and requires four hours to complete.
Candidates must obtain a scaled score of 75 in order to pass. The examination tests for
knowledge of radiation safety and quality
patient care and comfort
planning and delivery of treatment
and the underpinning concepts of radiation oncology.
ARRT credentials must be kept current by completion of Continuing Education credits every two years and Continuing Qualification credits every ten years.
Sponsored Programs
Accredited Radiation Therapy Schools in Texas
Amarillo College
Amarillo College is a two-year community college with over 10,000 students serving the counties of Carson, Castro, Deaf Smith, Moore, Oldham, Parmer, Potter, Randall, and Swisher. The college offers either an on-campus or an online Associate of Applied Science in Radiation Therapy, both of which take two years to complete.
Both programs are accredited by JRCERT (Joint Review Committee on Education in Radiologic Technology) and graduates are eligible to write the ARRT examination and apply for ARRT credentials.
Candidates for the program must first apply and be accepted to Amarillo College and complete the pre-requisite courses which include Interpersonal Communication, English Composition, Algebra, and Psychology. Applicants to all Health Services courses at the college are assigned points based upon their completion of pre-requisites, their GPA, and any previous healthcare courses or experience.
Candidates are then ranked according to their total points and admitted to the available programs in rank order until all seats are filled. The curriculum includes five practicum courses to ensure that students build the hands-on skills that they need to operate safely and effectively.
2201 S Washington St,
Amarillo, TX 79109
806-371-5000
Website: https://www.actx.edu/
Galveston College
Located just 50 miles south of Houston on Galveston Island, this community college serves approximately 2,400 students. The Radiation Therapy program was established in 1978 and is the oldest program of its kind in the state. It is one of the largest radiation therapy schools near Houston, Texas.
The five-semester curriculum is regularly updated to include new techniques and treatment procedures and incorporates intensity-modulated radiation therapy treatments, applications of brachytherapy, image-guided radiation therapy, tomotherapy, stereotactic radiosurgery, and cyberknife treatment procedures.
The radiation therapy program at Galveston College is accredited by the Joint Review Committee on Education in Radiologic Technology (JRCERT) and recognized by the American Registry of Radiologic Technology (ARRT) ensuring that graduates are fully eligible to take the ARRT examination and apply for ARRT credentials.
4015 Avenue Q
Galveston, TX 77550
409-944-4242
Website: https://www.gc.edu/
Texas State University
Established in 1899, Texas State University is a public research university located along the San Marcos river. It is the largest institution in the Texas State University system with approximately 38,000 students enrolled.
Texas State enters undergraduates into a Bachelor of Science with a major in Radiation Therapy which is fully accredited by the Joint Review Committee on Education in Radiologic Technology (JRCERT). Graduates are prepared to sit the ARRT examination in order to obtain their professional credentials.
Students at Texas State have the opportunity to study cross-sectional anatomy, develop their skills in the dedicated dosimetry and treatment planning computer lab, participate in clinical practice at more than 16 partner institutions, and develop expertise in using linear accelerator treatment machines by using an advanced simulator. The university also encourages students to become members of the Texas Chapter of the Honor Society in the Radiologic and Imaging Sciences.
601 University Drive
San Marcos, TX 78666
512-245-2111
Website: http://www.txstate.edu/
The University of Texas M.D. Anderson Cancer Center
The University of Texas MD Anderson Cancer Center is both an educational institution and a cancer treatment and research center. The school offers a two-year upper-division program leading to a Bachelor of Science in Radiation Therapy which is accredited by the Joint Review Committee on Education in Radiologic Technology (JRCERT) and approved by ARRT.
The school does not offer the general education courses required in the freshman and sophomore years – these must be completed elsewhere. This is one of the only radiation therapy schools in Houston, Texas.
Students may study on campus, completing their clinical elements onsite in the radiation oncology center which treats 4000 patients a year. Alternatively, the course may be undertaken by distance education with clinical placements carried out at an affiliated local clinic.
School of Health Professions
1515 Holcombe Blvd., Unit 2
Houston, TX 77030
844-791-1014
Website: https://www.mdanderson.org/
The University of Texas Southwestern Medical Center
UT Southwestern includes one of the largest medical schools in the country, a graduate school of biomedical sciences, and the School of Health Professions which has around 330 students on roll.
A two-year post-baccalaureate certificate in Radiation Therapy is on offer at UT Southwestern. Students gain experience in all major areas of radiation therapy practice, including treatment planning and delivery, medical dosimetry, and patient care. Clinical experiences are delivered at the Moncrief Radiation Oncology Center, Simmons Radiation Oncology, and the Annette Simmons Stereotactic Treatment Center at Zale Lipshy University Hospital.
The post-baccalaureate certificate program is accredited by the Joint Review Committee on Education in Radiologic Technology and graduates may apply to take the National Registry Exam in Radiation Therapy administered by the American Registry of Radiologic Technologists (ARRT).
5323 Harry Hines Boulevard
Dallas, Texas 75390
214-648-3111
Website: http://www.utsouthwestern.edu/