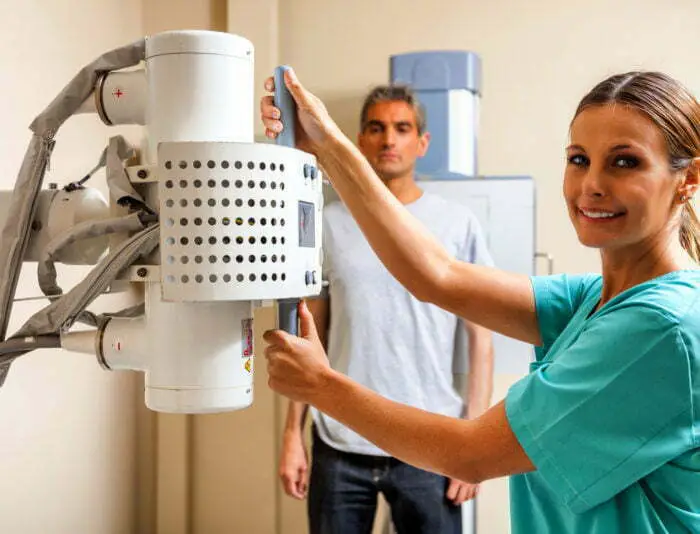 Becoming a radiology technician allows you to work with patients and aid them on their path to recovery while earning a respectable salary. A radiology tech salary is noteworthy and the role isn't as stressful as many other jobs in healthcare. This is why most professionals in this career path do not have issues with work-life balance. 
Further, the role has a positive outlook in the coming decades, so if you intend to earn a degree in radiologic technology and start a career in the role, you're on track to a stable and successful career.
However, before you decide to enter any field and pursue any role, it is essential to determine the pay range. Additionally, learning about the various influences on a radiology technician's pay should help you navigate your career well.
In this post, we will take a quick look at the duties and responsibilities that come with being a radiology technician and then take a detailed look at the employment and salary data to get a picture of the pay range and job growth.
How Much Does a Radiology Tech Make?
In 2020, the median national average salary for a radiology tech was $63,710 per year or $30.63 per hour, as reported by the BLS.
But looking at other stats gives a clearer picture of how well radiology technicians are paid at different points in their careers.
Most radiology technicians (>60%) have an associate's degree, while a smaller number hold a post-secondary certificate. However, radiographers with more education often get paid higher salaries.
A survey by the American Society of Radiologic Technologists (ASRT) reveals that R.T.s with an associate's degree make an average salary of $53,222 per year. In contrast, R.T.s with a bachelor's degree make $56,540, and those with a master's degree make $71,501.
It is also important to note that the area the technician chooses to specialize in can make a big difference to the salary they earn. 
The ASRT survey noted that technologists specializing in bone densitometry earn an average salary of $62,042. In comparison, those working in vascular sonography make $69,794 per year. According to the survey, SPEC/CT technologists get paid the highest salary at $78,018 annually.
Of course, like all other fields, as you gain more years of experience, your salary will increase.
Job Outlook
The BLS reports that the demand for radiologic technologists will rise by 9% between 2020 and 2030, which is faster than the average occupation's growth. In other words, there will be 22,860 more R.T. jobs in 2020 than they are now.
Since the population of the U.S. is aging, the demand for these technologists can only be expected to rise further. This makes becoming a radiology tech a solid career option.
X-Ray Technician Average Salary by State
Some states pay X-ray technicians better than others. If you don't mind moving to another state to get a better-paying job, looking into average radiology tech salary data by the state will show you what the best states to work as an R.T. are.
According to BLS data, radiologic technologists in California earn the best salaries in the country, making an average median wage of $95,010 per year.
Radiology technicians in Hawaii earn $82,990 per year, whereas radiology techs in the District of Columbia and Alaska make $82,270 and $79,330 per year, respectively.
Massachusetts is another good state to consider moving to, with radiology technicians making $78,830 per year on average.
What Do Radiology Techs Do?
Also called rad techs, R.T.s, and radiographers, radiology technicians play a crucial role in the delivery of proper care to the patient in all health care settings. Known formally as radiologic technologists, radiology techs typically work with a team of doctors and nurses. These rad techs use specialized equipment to capture images that help physicians diagnose the patient's illness or injury.
A radiology technician is most commonly recognized as the health care technician that performs diagnostic imaging exams, such as X-rays, on patients on request by the doctor. However, there is a lot more to the role than that which is why the salary for a radiology tech is attractive.
Duties of a Radiology Technician
While the responsibilities of the role vary from role to role, getting a job as a radiology tech will typically involve:
Adjusting and maintaining the imaging equipment
Following the instructions for imaging given by the consulting doctor precisely
Preparing patients for their diagnostic exam by enquiring and noting their medical history 
Shielding parts of the body that do not need to be exposed to the equipment
Positioning patients and the equipment as required to take the correct images
Working with patients to ease their anxiety and gain their trust, so they co-operate
Offer patients a liquid mixture to drink that illuminates soft tissue on the equipment for clearer images
Working alongside other health care professionals to evaluate images and retake them if required
Keep comprehensive patient records
Not all radiology techs work with X-ray machines. A radiologic technician may specialize in conducting diagnostic exams with other equipment, such as Magnetic Resonance Imaging machines. 
MRI technicians have the specialized knowledge required to operate MRI scanners correctly and inject patients with contrast media, typically dye, to help the MRI scanner pick up the required images. These machines use magnetic fields, which interact with contrast media to produce images revealing the body's internal parts.
Other specializations include mammography and Computed Tomography imaging, and every specialization comes with its unique responsibilities.
Education
Creating personalized reports for patients and learning the required skills to operate the equipment is nuanced. For this reason, interested candidates must earn specific credentials before they become eligible for radiology technician jobs.
After earning a high school diploma or GED, aspiring radiology technicians must earn a two-year associate's degree in Radiography from a program accredited by the JRCERT at minimum. Candidates can alternatively complete an accredited two-year hospital-based training program or earn a four-year bachelor's degree in Radiography. 
While getting a four-year degree is not required, employers prefer hiring more qualified candidates and paying a higher radiology tech salary. Whether you choose to complete training or earn a degree, you will learn about anatomy, radiation safety, equipment safety protocols, and correct patient positions for clear imaging.
After completing the degree program or the hospital-based training program, you will need to work towards getting a state license if your state requires it. You can also get an ARRT certification (after earning a bachelor's degree) and specialize. 
Getting an ARRT certification will give you the option of specializing in one of fifteen areas of diagnostic imaging. Some of the most popular disciplines include:
Cardiac Interventional Radiography
Vascular Interventional Radiography
Computed Tomography
Magnetic Resonance Imaging
Mammography
Nuclear Medicine
To maintain the certification, you will need to keep earning continuing education courses every two years.
Work Environment
Radiology technicians typically work in medical and diagnostic labs, outpatient care centers, and state and local hospitals. The techs also work at physician's offices and sometimes in federal government facilities.
Work Schedules
Radiology techs that work full-time typically don't work more than 40 hours a week. 
However, the technicians are often on their feet throughout the workday and may need to lift or turn patients to get them in the correct position for the diagnostic exam.
Since imaging is sometimes needed in emergencies, so technicians may work evenings, weekends, or overnight.
Potential Injuries and Illnesses
All healthcare workers, including radiology technicians, are exposed to infectious diseases when working with their patients. Further, the imaging equipment that these techs work with utilizes radiation. For this reason, they wear badges to monitor the radiation levels in the area. 
Extensive records are kept on radiology technicians' lifetime exposure to radiation. While radiation hazards exist in the occupation, they are managed with the use of protective shielding devices.
Categorised in: Careers