Radiology Tech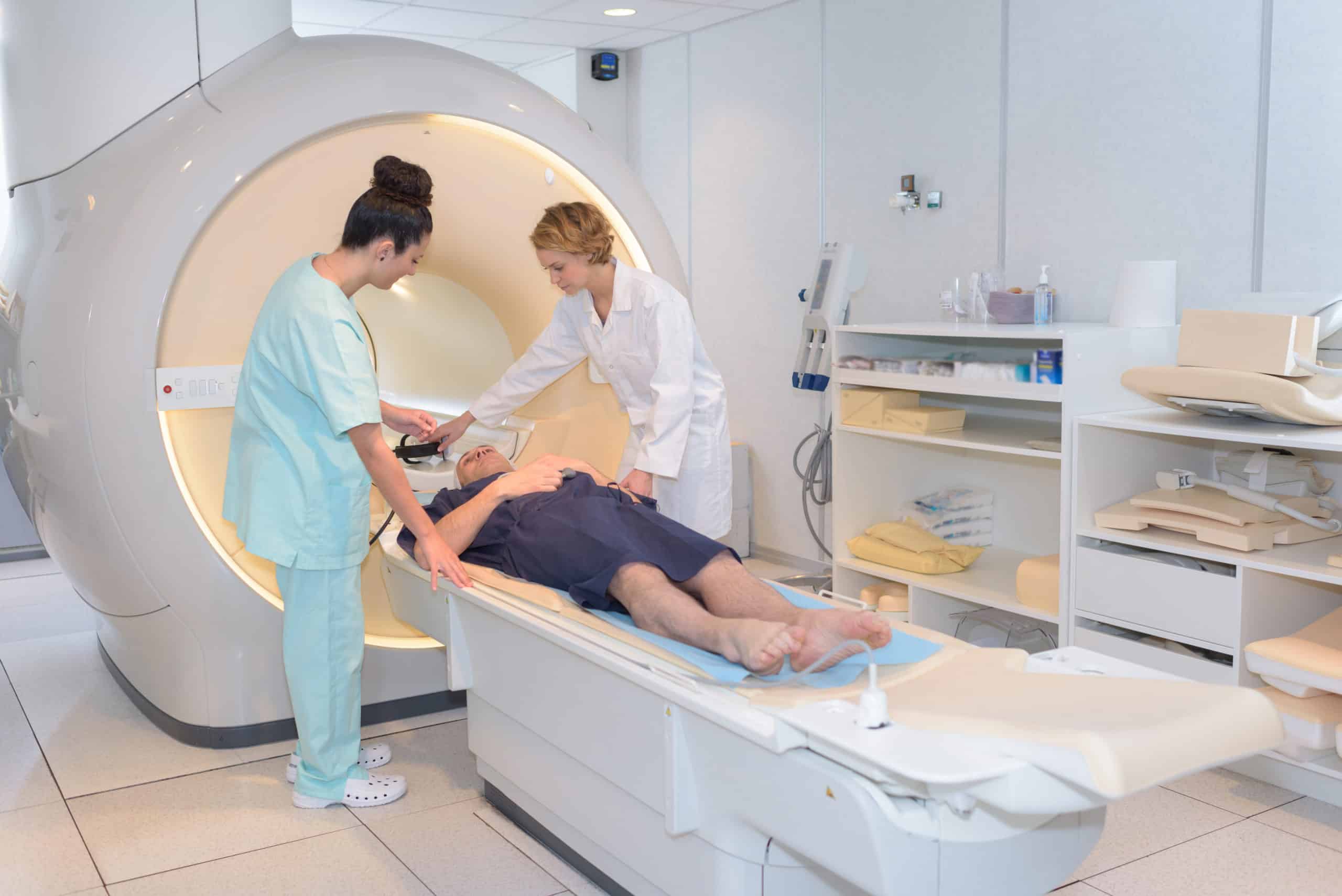 In today's job market, radiology techs are in high demand. According to the US Bureau of Labor Statistics, the employment of radiologic and MRI technologists is projected to grow 7 percent from 2019 to 2029, faster than the average for all occupations.
If you are thinking about becoming a radiologic technologist, it's important that you familiarize yourself with the various roles that are available and how to become certified.
What is a Radiologic Technologist?
Also known informally as rad techs, radiologic technologists are healthcare professionals who specialize in working with patients and special equipment to capture images of the human anatomy. These images are then used by physicians to help diagnose and treat pathology.
Also known more generally as radiographers, radiologic technologists are sometimes improperly referred to as x-ray technicians. While taking x-rays can be one of their jobs, x-ray tech is considered an outdated term.
What's the Difference Between a Radiology Technician, Radiologic Technologist, and Radiologist Assistant?
The primary differentiator between a radiology technician, radiologic technologist, and radiologist assistant is the amount of education and training required for each role. Additionally, the ability to assume more responsibility and earn greater compensation is also a differentiator.
Radiology Technician
A radiology technician typically holds a two-year degree from a trade school or community college. However, in some states, the completion of a certificate program is all that's required.
Radiology technicians may focus on taking x rays, but they are typically certified to operate other medical imaging equipment. Study time for a radiology technician is primarily focused on learning how to operate x-ray, mammography, and computed tomography (CT) equipment and position patients properly during the operation of these machines.
The title radiology technician has been phased out in recent years with the role being consolidated under the broader title of a radiologic technologist. As of 2015, the American Registry of Radiologic Technologists (ARRT), requires that all ARRT certified credentials have an associate's degree for the following credentials:
Magnetic Resonance Imaging (MRI)
Nuclear Medicine Technology
Radiation Therapy
Radiography
Sonography
Vascular Sonography
Radiologic Technologist
Also called radiographers, a radiologic technologist has similar job duties as a radiology technician. Both roles are trained to position patients and properly operate imaging equipment. However, as of 2015, the ARRT requires all radiologic technologists to have an associate's degree at a minimum.
Many radiologic technologists hold a four-year bachelor's degree from a radiologic program and are able to act in supervisor roles and earn a higher salary.
Radiologic Assistant
Radiologist assistants are radiologic technologists who have attained a master's degree from a nationally recognized radiologist assistant curriculum and completed a clinical preceptorship under a radiologist.
RAs manage patients, perform assessments, and provide preliminary evaluations of test results to the supervising radiologist.
What Does a Radiologic Technologist Do?
Radiologic technologists are responsible for:
explaining procedures to patients about the imaging process
physically positioning patients for imaging procedures
adjusting the machinery and capturing images properly
ensuring the accuracy and quality of the images captured
Not only is it important to communicate clearly with the patients to manage expectations, but it is also important that radiologic technologists use the machinery properly to ensure the safety of the patient, and radiologic technologist.
Where Does a Radiologic Technologist Work?
Most radiologic technologists work in medical and diagnostic laboratories. They can also be found working in hospitals just as often.
Other radiologic technologists can be found working in doctors' offices, surgical centers, and outpatient centers. In every location, they work with patients and highly technical equipment throughout their day.
What is the Salary for a Radiologic Tech?
According to the Bureau of Labor Statistics, the average annual salary for radiologic technologists was $63,120 as of 2019. Additionally, the highest-earning 10% made over $89,760, while the lowest earned approximately $41,480.
Radiologic technologists with a bachelor's degree typically earn more than those with an associate's degree or no degree. In fact, the average salary for a radiologic technologist with an associate's degree is $53,222, while those with a $56,540 with a bachelor's degree earned $56,540 and $71,501 with a master's degree, according to the American Society of Radiologic Technologists (ASRT).
Different modalities in which a radiologic technologist specializes also make a difference in wages earned. Also according to the ASRT, radiologic technologists working in bone densitometry earn an average annual salary of $62,042, compared to radiologic technologists working in vascular sonography at $69,794, breast sonography at $73,967), or PET/CT, SPEC/CT at $78,018.
How Do You Become a Radiologic Technologist?
The American Registry of Radiologic Technologists (ARRT) offers credentials in medical imaging, interventional procedures, and radiation therapy. The ARRT certifies and registers radiologic technologists in a range of disciplines by overseeing and administering education, ethics, and examination requirements.
In order to get a job as a radiologic technologist, you'll need to meet the requirements set by the ARRT to become a certified and registered radiologic technologist. There are three different requirements that are needed to complete the ARRT. Below are the requirements you must meet to become a radiologic technologist.
General Education Needs
Students seeking ARRT certification must have certain medical and practical classes that relate to being a radiologic tech. Before determining which classes to take, students need to determine what type of radiologic technologist they want to be once they have completed their education and training.
These radiology tech categories are available to radiologic technologists:
Once you have chosen your category, a list of classes will be created for the student to take, and what order the classes should be taken in, to optimize your learning and time spent in the classroom.
As of January 2015, students who are attempting to complete and pass the ARRT certification need to have at least a two-year academic degree. That degree may be in any of the above categories. However, checking with your state and university for the specific regulations before taking any classes is a wise idea.
Returning Student Degree
If the student has a position in radiologic technology and wishes to specialize in a particular area, they can obtain a post-primary certification in:
Mammography
Breast Sonography
Computed Tomography
Vascular Sonography
Magnetic Resonance Imaging (MRI)
Vascular-Interventional Radiography
Quality Management
Cardiac-Interventional Radiography
one Densitometry
Along with an ARRT, these radiologic technology categories require specified certificates and testing to be registered as this type of radiologic technologist.
New requirements demand that students going for this type of radiologic technology degree need to complete 16 hours of education that is structured within a classroom or online. This requirement came about in January 2016.
Ethics Educational Needs
Candidates who apply for the certification and wish to register need to have excellent character and cannot behave in a way that is not becoming to the ARRT expectations and ethical behaviors. The candidate needs to know, understand, and conduct in accordance with the ARRT Rules and Regulations and Standards of Ethics.
Candidates' backgrounds are thoroughly checked, including checks and inquiries into any felonies, misdemeanors, convictions, criminal activities, court Martials, and any other delinquent issues that could be in violation of the ARRT Rules, Regulations, and Standards of Ethics. Minor problems such as traffic tickets that do not have a drug or alcohol conviction with them are not taken into consideration.
There is a pre-application that new candidates can complete, which will allow them to decide what their ethics qualification is before they begin classes.
Examination Needs for an ARRT Certification and Registration
Once the students pass the required classes for their chosen category, they must take the exams and successfully pass them. The exams test the skills; both educational and ethical, of the student, along with everything they learned throughout their time earning their degree.
To apply for the certification tests, a new student would need to contact their program chairs for the information. A returning student would log onto the ARRT information website and complete their applications for the exam there. For help or questions on the process, please call the Initial Certification Department: (651) 687-0048, extension 8560. They can help walk the student through the process of applying.
When completing the applications, the student needs to remember:
Students can send in the applications 3 months before their expected graduation date.
Dates, signatures, and pictures must be current up to 6 months prior to the receive date of the ARRT office.
Make certain the application fee is correct and included with the application.
There are no specific review or study materials that can assist the student in reviewing for the test. ARRT utilizes material from several sources to compile the exams. Reviewing the coursework within the student's degree would be a good place to start for any type of review materials.
Once the student has been accepted, they will receive a Candidate Status Report, which will give the student testing information and a testing window in which to take their exam. It gives the students information on proving their identity at the testing site. Students are allowed three testing tries to pass during a three-year time frame.