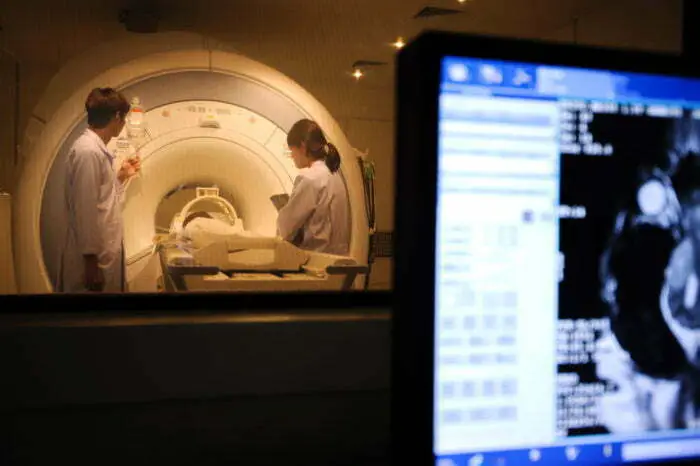 Until five decades ago, the only way to look inside the body was to perform an x-ray or surgery. Magnetic resonance imaging is new-age technology that has made it very easy to see inside the human body. Since then, the professionals who capture these images are in high demand making the MRI Tech salary one of the most attractive in the field of imaging.
MRI machines are large and sophisticated and can only be operated by trained professionals, called MRI technicians.
Training to become an MRI tech is cheaper than many other careers, and the comparatively shorter training period allows you to get started in your career quickly. The role is less hectic than many other roles in health care, and the pay for an MRI tech is excellent.
If you're considering becoming one, we cover the required qualifications, responsibilities, and average MRI tech salaries in this post.
What is an MRI Tech?
Anything from a bad sprain to a life-threatening injury can be detected using a magnetic resonance imaging procedure. An MRI technologist is a professional that operates an MRI machine to get the best possible images of inside the body. 
These are then passed to a radiologist, who reviews the results, makes reports, and then to the patient's physician for diagnosis and treatment. 
It's important to note that you will work with patients just as closely as you work with the facility's radiologists. Providing support to distressed and claustrophobic patients is a part of the job. Educating them on what to expect and treating them with respect and compassion is something MRI technologists do every day.
What Do MRI Techs Do?
MRI technologists work in a facility's radiology department and use magnetic resonance imaging scanners to view inside the body. With these machines, MRI techs enable physicians to view cysts, tumors, internal bleeding, swelling, infections, cancer, and also problems in the blood vessels.
Understanding how to use the equipment is a big part of the job. But an MRI technologist also knows how to position the patient on the machine to get the best image of the problem area.
Further, they must understand what type of examination requires the use of administering contrast media. The media is typically administered via an injection. 
Where Do Magnetic Resonance Imaging Techs Work?
One of the best things about getting a job as an MRI Tech is that you have a variety of work environments to choose from. Depending on your comfort level, you can choose to work at a physician's office, an outpatient center, a hospital, or even a government facility. 
The kind of work you will do won't change regardless of where you work. However, the workload can vary, and so can your comfort level in different work environments. You can make your choice accordingly.
What is the Salary for an MRI Tech?
The latest data from the Bureau of Labor Statistics indicates that the national average MRI tech salary is $63,710 per year. That is about $30.63 per hour. That being said, the average salary isn't a final indicator of how much you can earn.
The base salaries can vary depending on various factors, such as the size of the facility, the state you're in, the demand for a professional, your qualifications, and years of experience.
If you don't care much for the work environment and want to work wherever they offer the best pay, look into getting hired at an outpatient facility. According to the BLS, the median average salary for an MRI tech is $95,200 in such facilities.
You could also consider moving between states. Some states offer better MRI technologist salaries than others. The best-paying states include California, the District of Columbia, Hawaii, Washington, and Alaska. In California, the average salary for an MRI tech is $106,040 per year. 
The other states mentioned above offer an average MRI tech salary of between $91,000 and $96,000 per year. 
It's essential to bear in mind that most MRI technologists work full time. Further, the average MRI tech salary goes up as the technologists progress in their careers and gain more experience. 
How Do I Become an MRI Technologist?
To become an MRI technologist, you must complete a certificate program accredited by the American Registry of Radiologic Technologists. You can get this certification at your local community college. Some hospitals also offer this certification.
Bear in mind that you need at least a high school diploma or a GED to enroll in a certification program. MRI Tech certification programs are typically from a few months to a year long. Getting certified will prove to employers that you are capable of the basic operation of an MRI machine. 
However, if you want to earn a higher MRI tech salary and get employers to hire you easily, you will need to get a degree. An associate's degree or a bachelor's degree in MRI technology will make you a great hire for any employer. MRI technologists holding a degree will have a higher base salary per year when compared to those with just a certificate. 
After getting a degree, finding a job, and earning some experience, you become eligible to get certified by the ARRT. You can look deeper into this certification at the official American Registry of Magnetic Resonance Imaging Technologist (ARMRIT) website.
Completing a year-long MRI tech program will help you get a job but you will need to earn a degree and experience to be eligible for ARRT certification and a higher MRI tech salary.
ARRT-certified MRI technologists aren't as common. So if you get the certificate, you can expect to find a job easier and attract a higher base salary per year.
As you grow in your role, you could also be offered supervisory roles in a hospital. But a promotion to supervisor and a bump in pay depends on what facility you're working at, and the demand for MRI scans in the location. 
Sponsored Programs
Location - Houston, TX, US 77074

The College of Health Care Professions is a Texas-based career education school founded by physicians in the Texas Medical Center solely specializing in healthcare education and dedicated to provid...ing students with training and education Read More

Programs

Limited Medical Radiologic Technologist with MA Skills - Certificate

Location - Melbourne, FL, US 32901

Since 1977, Keiser University has maintained a practical, hands-on approach to career-focused education to help our students achieve their personal and professional goals.  Our student-ce...ntered approach remains at the foundation of the Keiser University mission and continues to attract students who prefer a more personal learning experience. At Keiser University, you will find a warm, friendly community with faculty and staff truly committed to your success.  Our small class sizes, individualized attention, and one-class-at-a-time schedules create a positive learning environment where you can excel.  Whether your goal is to prepare for a new career or to advance with your current employer, Keiser University is designed around your needs. Keiser University Advantage• Associate, Bachelor's, Master's and Doctoral degree programs• Day, Evening, and Online Classes• Financial Aid to Those Who Qualify• Job Placement Assistance Available• Military-friendly, scholarships for qualified active duty personnel, Veterans, and dependants.  Yellow Ribbon program participant, approved for Veterans trainingPrograms and delivery format vary by campus. Courses are subject to change. Keiser University's programs and curriculum remain in-line with technology and workforce trends, helping you develop the skills and qualifications necessary to succeed in today's job market.  Our career-focused programs make it possible for you to graduate in less time than you may think.  Keiser University is a private, not-for-profit university. Read More

Programs

Radiologic Technology, AS
The Takeaway
In addition to being one of the least stressful jobs in health care, MRI Technologists also get paid a good compensation. If you look at the role at face value, it's work that almost anybody can pick up, and the pay is similar compared to other, sometimes more hectic roles in health care.
If you want to work in the health care industry, the job is rewarding and the MRI tech salary is substantial.
Categorised in: Schools